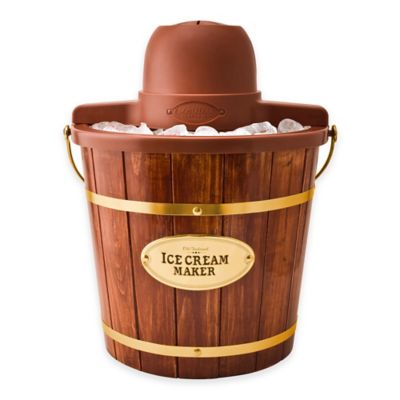 Nostalgia Electrics™ Old Fashioned Wood Ice Cream Maker
Enjoy delicious, homemade ice cream in just a few minutes.
Makes 4 quarts of ice cream per batch.
Includes a clear lid on canister for easy viewing, over-fill drip hole in back of bucket and easy-grip metal handle.
Measures 15" L x 12.6" W x 15.8" H
Model # ICM400WOOD.
Serving pieces not included.
SKU # 18089211
Nostalgia Electrics™ Old Fashioned Wood Ice Cream Maker
9
10
Good ice cream
This is a good ice cream maker. It's easy to use and I am satisfied with everything about it except the lid knob (if you want to put the canister in the freezer) is ridiculously poorly designed.
November 7, 2013
Yummy!!
Okay, so we've only used this one time so far, but I was super impressed! I thought I only had half enough ice to make it work properly, but that didn't stop this machine from making some lip smackin' ice cream! We only used about half the ice cream salt it called for too and it was no problem. If you have space in your freezer, I highly recommend putting the metal center piece in the freezer for a minute or two before starting the ice cream making process. It only takes about 30 minutes to make!
October 10, 2013
Not as pictured.
Plastic bucket with wood overlay, no latches as pictured. Plastic bucket where motor attaches doesn't look like it last will very long. Time will tell if purchase was wise or not.
July 3, 2013
Impressive Ice Cream Maker
We used to make crank ice cream when the family got together when I was a kid. We were expecting family for a visit this Memorial weekend so I began looking for a well reviewed old-style ice/salt ice cream maker. BB&B was the only place I could find this! The wood bucket now has a plastic liner, so no worries about leaks. It's quiet but gets louder as the ice cream stiffens, but it's still bearable. It worked perfectly, as the directions described. Our ice cream was fantastic. We placed it in the freezer for a couple of hours after churning for a harder ice cream. We look forward to many more get togethers with home made fresh ice cream! What fun!
May 29, 2013
Very Pleased with this Ice Cream Maker
I've made ice cream twice so far ...first time fresh peach ..next was just vanilla ....product runs smoothly, rather quiet, easy to assemble and disassemble to clean. It produces ice cream very quickly (about half an hour) and effortlessly! The consistency of the ice cream was great ...also can keep it in the freezer in the removeable container which has a lid. I had never made homemade ice cream so I expected to "mess" it up ..quite the opposite ..I got recipes online and it was easy as 1,2,3 and it was DEEEELISH!!! Everyone raved ..I would definitely recommend as it is a great deal as well!
August 19, 2012
Back to basic ice cream maker
It did a excellent job. Within 30 minutes we had ice cream. Problem used it once and lid was lost. Having a problem finding a replacement part. Any suggestions?
July 15, 2012
AMAZING MACHINE!!
This machine is absolutely amazing!! I have NEVER had homemade ice cream as thick as this machine makes. It is very easily grocery store consistency! I was nervous buying this machine because I couldn't find many reviews on it, but boy am I glad I did. They were out of stock online, but our store had approx. 50 or so. The machine is much quieter than expected. It is very simple to operate, and very easy to clean! Works beautifully! If you buy this I promise you will NOT be disappointed! It really is an attractive machine!
June 17, 2012
Family Fun
We purchased this ice cream maker to use Memorial Day weekend. I have 18 and 22 year old boys that had never made homemade ice cream, I am embarrassed to admit. We enjoyed making the ice cream together, it turned out great and we had enough ice cream for the day and enough left to fill a 64 oz. container to use the rest of the week. The process time only took 30-45 minutes. I am now looking for an ice cream recipe book so we can make more! This machine is very easy to use and clean, I would recommend this product to anyone interested in making homemade ice cream, I am also going to buy another one for a birthday gift.
June 5, 2012
Related Searches:
Similar Products: