Oggi™ EZ Grip Regular Coffee Canister
Stainless steel spoon included.
Each canister measures 6" H and holds 33 ounces of ground coffee.
SKU # 16088455
Oggi™ EZ Grip Regular Coffee Canister
16
19
Cheap - returned it ASAP
Ordered the "Reguler" and "Decaf" canisters from the store, since they were not available when I went there. The day I received them, I opened the box and immediately noticed the quality of the latches was very poorly designed and the lids would not properly seal to keep my coffee fresh. Returned them to my local BBB store after about 45 minutes. I do not recommend as there are much better products available.
October 6, 2014
Just what I needed!
This is a quality piece and a steal at the price. It goes very nice with the decor of the kitchen and it holds a pound of your favorite coffee! WHAT A DEAL!
September 22, 2014
Coffee canister
I bought this canister thinking that it was smaller than it turned out to be, Too big for me. Otherwise very nice.
September 12, 2014
Wonderful Canister
This is absolutely wonderful! It is airtight so it keeps the coffee fresh. It is a good-looking canister that fits nicely on my counter. It is smaller than I anticipated but I still recommend it.
July 28, 2014
practical coffee canister!
I love this canister, simple design with an easy grip. I make half-caff every morning....the way this is labeled....perfection. Really attractive and matching my kitchen is a great bonus!
July 21, 2014
Would have loved to receive this.
We ordered both the regular and decaf canisters to be a set for our counter. The decaf one arrived is works quite well. A couple of days after the order was placed, we received notice that they no longer had this item. Now we are disappointed because we have no matching set.
May 24, 2014
Cheaply Made
The lid is off to the right and not centered over the canaster, making it difficult to close. Because the quality of the entire jar is poor, the lid would not last long, so am returning to store tomorrow.
December 4, 2013
Excellent Service
The canister is perfect, fits a can of coffee with no problem, the spoon is a perfect measurement for a scoop of coffee, and I must say service at the store was excellent with the help to order the canisters.
July 20, 2013
Related Searches:
Similar Products: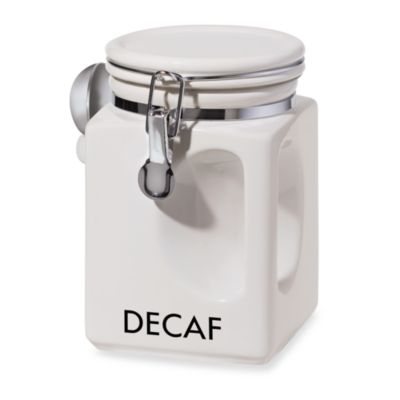 Oggi™ EZ Grip Decaf Coffee Canister
Whether you prefer regular coffee or decaf, there's a canister for you. Ceramic canisters have easy grips and chrome locking clamps with silicone gaskets for airtight seals.
Also check out:
$9.99 - $19.99
(4 Reviews)

$21.99

Beyond Value

(30 Reviews)
$10.99 - $19.99
(12 Reviews)

$14.99

$9.99

Clearance!

(4 Reviews)

$19.99

Beyond Value

(20 Reviews)