"Oil-Rubbed Tension Pole Shower Caddy in Bronze" Is Not Available for Sale Online.
We have provided the content below as informational. Please view additional items Customers also viewed.
Related Searches:
Similar Products: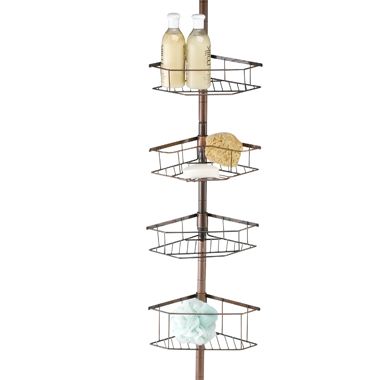 Oil-Rubbed Tension Pole Shower Caddy in Bronze
Customers Also Viewed
Frequently Bought With
$7.99 - $10.99
(6 Reviews)

$11.99 - $20.99




$9.99 - $16.99

Clearance!

(7 Reviews)
This incredibly attractive, rubbed bronze caddy pole has a special design that extends from 5 to 9 feet to lock in between your ceiling and tub lip or shower stall floor.
Four deep Euro-style baskets with adjustable level options give you space for all your shower needs, including shampoo bottles, soaps, body lotions, exfoliating sponges, and washcloths.
Caddy installs in seconds without any tools.
Simply place pole in desired location, extend tension rod to the ceiling until it fits snuggly, and then lock in place for a secure hold that will support all your shower accessories and keep them close at hand.
SKU # 14494154
Oil-Rubbed Tension Pole Shower Caddy in Bronze
16
18
Rotted Out Fell Apart
The stoppers that hold the shelves to the pole rotted out in 4 years time. Spend the extra $$ and get stainless steel
March 13, 2014
Frustrating purchase
First of all I ordered two of these caddies online and though they came in identical boxes and the poles look the same they came with completely different clips and caps. After about two hours, we realized neither would fit in either bathroom even though the height is well within the advertised range. I've had various stainless steel versions of similar towers in four different apartments and never had this much trouble...then reading the reviews about all the disgusting rust problems I'm just taking them both back and buying my old faithfuls.
July 20, 2013
Do not spend your money on this
It went up easily and was beautiful for a few months. Now it is disgusting and cannot be cleaned. VERY DISAPPOINTED! BBB should stop selling this piece of junk.
July 13, 2013
GARBAGE
This unit is a piece of garbage. I have had it little more than one month and the rust is all over it. If I had my receipt, I would take the thing back. In the beginning it looked fine, but after 2 weeks the rust began to appear and I KNEW I was in trouble. This is GARBAGE.
June 12, 2013
Oil-Rubbed Bronze Tension Shower Caddy
Love it! Makes my shower so easy to keep bath products organized.
June 1, 2013
rusting!!
i will start by saying that this is my 1st ever review of a product that i purchased online. i am so disappointed with this tension pole shower caddy that i wanted to let others know. the product itself is attractive & functional and seemed to be just what we were looking for. however, a short time after installation it began to rust. It continuously leaves flakes/chunks in our shower due to excessive rusting. it has stained our shower/tub surround and causes stains on the containers of hair & body products that it holds. it would be a great product if it wasn't deteriorating!
January 8, 2013
How can we clean it?
I have has this product for about 3 months and it looks bad with stains all over, if someone can let me know how to clean it would be a great product... but the metal polishers doesn´t work with this type of material.
October 28, 2012
Love the Function. Hate the Rust
Like most of these other reviews, my shower caddy rusted - w/in 6 months. If it weren't for the rust, Id have given this a 5 star review....
September 24, 2012