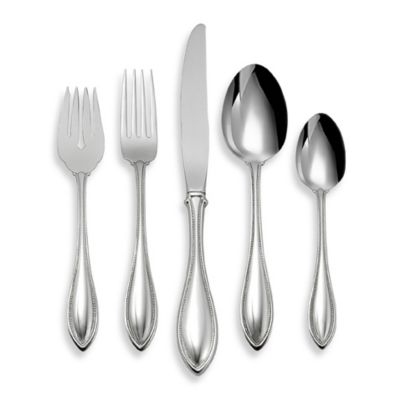 Oneida® American Harmony 45-Piece Flatware Set
Dishwasher safe.
45-piece set includes eight each of the dinner fork, dinner knife, dinner spoon, salad fork and teaspoon, plus one serving spoon, one pierced serving spoon, one serving fork, one butter knife and one sugar spoon.
SKU # 16697290
Oneida® American Harmony 45-Piece Flatware Set
7
8
Harmony Stainless
Very nice in detail; good weight; will use everyday
August 18, 2014
Product is very classy.
While not as heavy as the stainless set it is replacing, this is still a very nice set. You cannot go wrong with Oneida.
August 11, 2014
Great Buy and beautiful
I have had this set since 1994 and I have to order more as spoons have been lost. It looks just as good as when I purchased it and can be mixed with my good sterling. Most of all this pattern remains available.
September 29, 2013
Great purchase!
I've had my 2 sets of American Harmony going on 20+ years. They are used everyday, washed in the dishwasher & have never experienced had any problems; including rust, breakage or dulling. I chose them for their simple elegance and have been extremely happy with them.
October 13, 2012
Great Flatwear!
Ditto to Plumerialace! I have had this same set for many years and have NEVER had rust! I always wash it in the dishwasher. No " kid gloves" here except my two sons and their friends that tossed it in the dishwasher many times over the years. This is a great set for everyday use, I highly recommend this set!
June 11, 2012
Excellent, Long Lasting
I've had two sets of American Harmony for 12 years. They are very versatile, good weight, don't scratch, stain or rust. I use them every day and for casual parties. I'm ordering replacement pieces today. (There is a black hole out there for flatware!)
April 22, 2012
RUST!!
These are not stainless steel and after a few washes, rust appears on the teeth of the silverware. Do not buy!
April 17, 2012
Related Searches:
Similar Products:
Also check out:
$229.99 - $249.99
(1 Review)

$6.99

Beyond Value

Exclusively Ours

(6 Reviews)

$29.99 Each
Oversized
(26 Reviews)

$34.99 - $59.99
(87 Reviews)

$29.99

$50 Bonus Gift card with $300 Calphalon Purchase

(17 Reviews)

$229.99

$50 Bonus Gift card with $300 Calphalon Purchase

(50 Reviews)
$16.99

Excluded from Pack and Hold