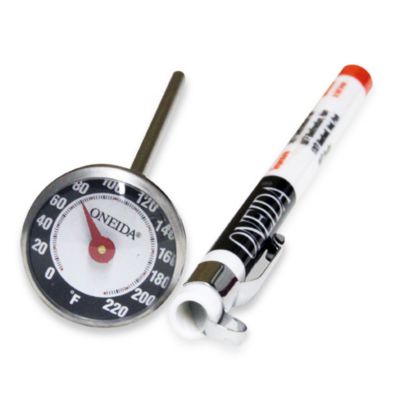 Oneida® Instant Read Thermometer
The plastic storage case functions as a holder to keep hands away from a heat source, and is printed with a meat temperature guide for easy reference.
Limited lifetime warranty.
SKU # 10161711
Oneida® Instant Read Thermometer
3
3
You get what you pay for
I think when it comes to instant read thermometers, the saying that "You get what you pay for" is absolutely true. This thing is cheap in price and construction. But the real shame is that it doesn't come close to being accurate. In what world will a steak that you pull off the grill at 140F, be well done? It only takes one evening of ruined steaks to let you know just how expensive a cheap thermometer really is. Stay away!
April 23, 2014
Not impressed
The dial does not advance evenly, but instead seems to catch at various increments. I'm not sure I ever got a true reading from it. Also, the plastic sticker with the recommended temps (on the storage case) started to peel from the moment I unwrapped the unit from its packaging.
August 7, 2013
it's a good little thermometer- i just feel like the meat temperatures they suggest are higher than necessary.
October 6, 2012
Related Searches:
Similar Products:
Also check out:
$5.99 - $7.99
(6 Reviews)
$7.99 - $9.99
(2 Reviews)

$9.99 Each

$50 Bonus Gift card with $300 Calphalon Purchase

(7 Reviews)

$9.99

Exclusively Ours

(14 Reviews)