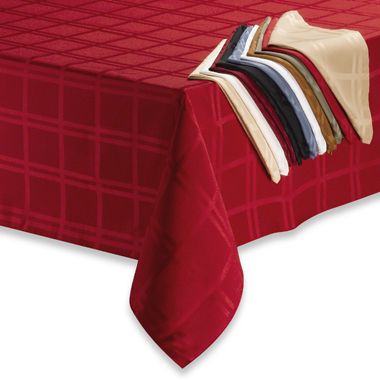 Origins™ Microfiber Tablecloth
If something spills on the Origins Microfiber Tablecloth the liquid beads up and doesn't leak through the cloth so it keeps your linens looking fresh longer
Coordinate with the matching napkins (sold separately)
Napkin measures 19" x 19"
For indoor use only
100% polyester
Machine wash
Imported
Origins Microfiber Tablecloth and Napkins
Hello. My name is Cara from Bed Bath and Beyond, and I'm here today to talk to you about the Origins Microfiber Tablecloth. The microfiber construction means that spills bead up and do not leak through. It's easy to care for and wrinkle free. It's available in 10 different colors and a variety of sizes with coodinating napkins to fit your needs. I love this microfiber tablecloth because it's great for busy families like mine. The easy care construction allows me to have a great looking table without worrying about spills or messes. Let me show you what I mean. If I pour some wine on this napkin, you can see the spill bead up right in front of you. Then, you can simply pour it off onto the table and take a paper towel to clean it up, and then your table is dry, and you're all set to go back to enjoying your meal. The Origins Microfiber Tablecloth is available online and at a Bed Bath and Beyond store near you.
Origins™ Microfiber Tablecloth
110
126
I love the no iron feature
This table cloth washes beautifully. No need to iron. I use it at my beach house and purchase 2 more indifferent sizes
October 6, 2014
Great
The color is bold, the fabric is smooth. It came out flat and fresh after washing - no need to iron. Great purchase.
September 29, 2014
Terrific buy!
Several years ago, I purchased an Origins round microfiber tablecloth. This tablecloth has outperformed all of my 'better' tablecloths. And, it has retained its color after all these years.....absolutely no fading. Still looks like new. So, when I needed a set of 3 different sizes for parties, I again purchased Origins. I bought a square, small rectangle and large oval in navy this time. You can't go wrong with these tablecloths!
September 22, 2014
Used????
My order came in a timely manner. But, I think they sent me a tablecloth that someone had returned and that it had already been washed before they returned it. I had purchased a different size of the same tablecloth in store and the color was much richer and the fabric a bit shinier. Unfortunately, I needed the tablecloth for a Bridal Tea and had no time to return it. I would recommend the tablecloth, but only if you see what you are purchasing. I have a couple of these in different colors. They do wash and reuse well.
September 15, 2014
Love this product..Easy to wash and dry.. I purchased the green color which i love. Silky texture, can be used as casual or dressy dinner party.
September 12, 2014
Unbelievable! It really works!
I purchased a white Origins Microfiber Tablecloth, and am absolutely amazed. Any liquid spilled on it just beads up. All it takes is a paper towel (or napkin) to gently mop up the beads. I even dropped a little tomato sauce on it by accident. I gently used a paper towel to take up the spill, then used a slightly wet cloth to take out the stain. There was no red mark on the white cloth at all, and the tablecloth did not feel wet from the wet cloth treatment. I would highly recommend this tablecloth.
September 9, 2014
Tablecloth
I ordered the blue one and ended up with a green one,...that I can't use.i do recommend the tablecloth, but not the service.
September 8, 2014
Microfiber tablecloth
The tablecloth is beautiful but I ordered the blue one and ended up with a green one. I will try to take it to the store close by and exchange it. Other than that, the service was fast and the tablecloth is excellent quality . I would recommend it.
September 8, 2014
Related Searches:
Similar Products:
Also check out:
$14.99 - $19.99
(12 Reviews)

$9.99 - $49.99

Exclusively Ours

(45 Reviews)

$14.99 - $49.99
(27 Reviews)

$14.99 - $49.99
(19 Reviews)

$9.99 - $34.99
(7 Reviews)

$9.99 - $39.99
(1 Review)

$14.99 - $39.99
(6 Reviews)

$14.99 - $59.99

Exclusively Ours

(16 Reviews)

$4.99 - $8.99
(10 Reviews)

$8.99

Exclusively Ours

(1 Review)

$8.99 Each

Clearance!

Exclusively Ours

(3 Reviews)
$14.99 - $19.99
(6 Reviews)

$9.99 - $24.99
(5 Reviews)

$24.99 - $44.99
(5 Reviews)

$14.99 - $24.99
(5 Reviews)

$6.99

Exclusively Ours

(6 Reviews)