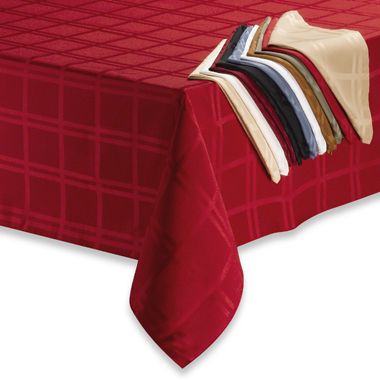 Origins Microfiber 60" x 102" Oval Tablecloth
Explore it:
Machine wash.
Imported.
Napkins (set of two) measure 19" x 19" and are sold separately.
Origins Microfiber Tablecloth and Napkins
Hello. My name is Cara from Bed Bath and Beyond, and I'm here today to talk to you about the Origins Microfiber Tablecloth. The microfiber construction means that spills bead up and do not leak through. It's easy to care for and wrinkle free. It's available in 10 different colors and a variety of sizes with coodinating napkins to fit your needs. I love this microfiber tablecloth because it's great for busy families like mine. The easy care construction allows me to have a great looking table without worrying about spills or messes. Let me show you what I mean. If I pour some wine on this napkin, you can see the spill bead up right in front of you. Then, you can simply pour it off onto the table and take a paper towel to clean it up, and then your table is dry, and you're all set to go back to enjoying your meal. The Origins Microfiber Tablecloth is available online and at a Bed Bath and Beyond store near you.
Related Searches:
Similar Products:
Also check out:
$14.99 - $39.99
(13 Reviews)

$9.99 - $24.99
(3 Reviews)

$14.99 - $23.99




$8.99 - $9.99

Clearance!

$9.99 - $29.99




$4.99 - $14.99

Clearance!

$5.99

Free Standard Shipping

(9 Reviews)

$14.99 - $39.99

Exclusively Ours

(10 Reviews)

$7.99 - $14.99
(9 Reviews)

$14.99 - $24.99




$7.49 - $12.49

Clearance!