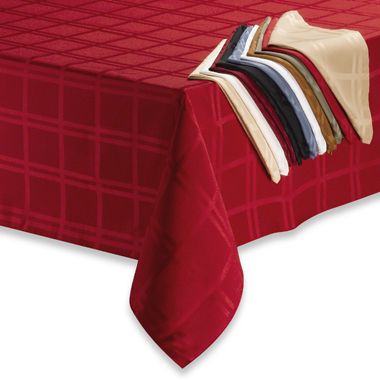 Origins Microfiber 90" Round Tablecloth
If something spills on the Origins Microfiber Tablecloth the liquid beads up and doesn't leak through the cloth so it keeps your linens looking fresh longer
Coordinate with the matching napkins (sold separately)
Napkin measures 19" x 19"
For indoor use only
100% polyester
Machine wash
Imported
Origins Microfiber Tablecloth and Napkins
Hello. My name is Cara from Bed Bath and Beyond, and I'm here today to talk to you about the Origins Microfiber Tablecloth. The microfiber construction means that spills bead up and do not leak through. It's easy to care for and wrinkle free. It's available in 10 different colors and a variety of sizes with coodinating napkins to fit your needs. I love this microfiber tablecloth because it's great for busy families like mine. The easy care construction allows me to have a great looking table without worrying about spills or messes. Let me show you what I mean. If I pour some wine on this napkin, you can see the spill bead up right in front of you. Then, you can simply pour it off onto the table and take a paper towel to clean it up, and then your table is dry, and you're all set to go back to enjoying your meal. The Origins Microfiber Tablecloth is available online and at a Bed Bath and Beyond store near you.
Origins Microfiber Tablecloth
103
117
Microfiber tablecloth
The tablecloth is beautiful but I ordered the blue one and ended up with a green one. I will try to take it to the store close by and exchange it. Other than that, the service was fast and the tablecloth is excellent quality . I would recommend it.
September 8, 2014
I've bought several of these tablecloths over the last 2 years. They look great, hold their rich colors and go right from the dryer to the table. Lots of visitors remark how great they look.
September 1, 2014
New and Different
Lovely design, very attractive and adds to the new appearance of my redecorated house.
August 11, 2014
Durable for everyday use
These are perfect for what we use them for - casual, everyday use to protect our table from our three-year-old. Like most toddlers, she knocks her cup over at least once a week, and if you boogie to wipe it up, the liquid beads right up and doesn't soak through (it will eventually, if a large amount is spilled and left there.) We have two of these that we rotate, since we have to wash them a couple of times a week (she's still a messy eater) and even though we use placemats, the tablecloths still get grimy with eggs, spaghetti sauce, etc. We use an oxy booster in the wash, and they are often dried with a dryer sheet if we wash them together with other things. They still look new and we bought them two years ago. I'm heading back soon to get another one in a different color. They aren't the most elegant, since the shiny surface obviously doesn't look like linen or anything, but we use them for holidays too (because our daughter doesn't stop making messes on holidays! :)
August 8, 2014
wonderful tablecloth
I purchased this tablecloth for our condo recreation center. We use a ping pong table top to serve buffet dinners. This size fits perfectly. I have this same tablecloth in my personal collection and it washes beautifully, never needs to be ironed, and spilled liquids "bead up" on the surface for easy clean up.
August 4, 2014
Microfiber square tablecloth
This is the best tablecloth. Washes great and no wrinkles like most tablecloths.
July 30, 2014
Love it!!
I love the quality of this tablecloth. It looks great on my table and fit perfect. It's hard to find 70 square.
July 21, 2014
Microfiber tablecloth and napkins
I love them I have 3 tablecloths and about 12 napkins they wash beautifully come out of the dryer perfect. Do not stain. I just fold them and put them on a shelf and when I use them I fluff them in the dryer for 10 minutes and they are ready to go. I just wish they would come up with some more formal designs although I use these for all occasions.
March 31, 2014
Related Searches:
Similar Products:
Also check out:
$9.99 - $24.99
(5 Reviews)

$24.99 - $44.99
(4 Reviews)

$14.99 - $24.99
(3 Reviews)
$18.99 - $22.99
(2 Reviews)