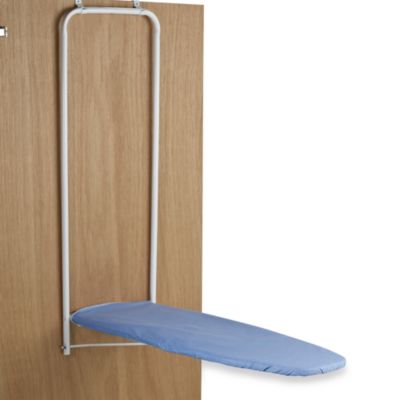 Over-The-Door Ironing Board
Cushion bumpers protect doors.
Steampress™ vented top measures 42" L x 14" W.
Overall measurement is 47" L x 17" W.
Also includes ironing board cover of 100% cotton backed with 100% foam.
SKU # 10532981
Over-The-Door Ironing Board
19
24
So convenient
As a newlywed with an aversion to ironing, this convenient board has made the chore so much easier. The price is outstanding, the size of the board is just right, and it's sturdy. Haven't had an issue with it once!
July 11, 2014
Great Product
Super easy & quick setup. It's sturdy and looks nice. Cant go wrong with this product.
January 8, 2014
so convenient
I have used a similar product for years and just bought this one for my daughter. She loves it, too! It is so handy, easy to manipulate, doesn't take up valuable space in a closet, etc. I highly recommend it. Get rid of that old free-standing board!
January 2, 2014
Just the thing.
Perfectly fits my area, needs and living situation. A great little ironing board that is easy to use and takes up no space! Love it! NOTE: READ THE DIRECTIONS ON HOW TO OPEN IT!
July 27, 2013
Nice idea
I like the concept and the quality seems good out of the box. However, when hung on the door, it rattles and is flimsy. Will work in a pinch but not practical for doing much ironing. May be able to adjust the rattle with cushions or something. The pad is very thin & doesn't stay on well. I am disappointed but will keep it & try to make use of it with adjustments.
July 13, 2013
Great Purchase!
I was looking for a over-the-door ironing board to put in my bathroom...found it here and the price was right. Processing of order and delivery was quick. I was able to install the board easily and have used it several times. Love it!
July 4, 2013
somewhat disappointed
Cheap construction. Padding is very thin. Hard for my elderly mother to bring it down. Like another viewer said, this was a purchase made solely because I could not find a better one. The choice for hidden ironing boards is extremely limited. Also, keep in mind that to use the board, you have to hang it on the outside of the door (facing the room so anyone in the room will be able to see it) or go into the closet to iron. All in all, I am not happy.
July 4, 2013
So-so Over-the-door ironing board
I bought this ironing board because I didn't want another big item cluttering my space. It's small to go over the door, but with it, you get a flimsy padding (you can feel the metal base when you put your hand on it). My previous one was the same way, but lasted a long time. I suppose I can put an old bath towel underneath to make it thicker. I rated it 3-star instead of 2 because it's the kind I wanted for over-the-door and there aren't too many models out there.
June 19, 2013
Related Searches:
Similar Products:
Also check out:
$14.99

Exclusively Ours

(29 Reviews)

$5.99

Beyond Value

(15 Reviews)
$29.99 Each

Beyond Value

Exclusively Ours

(15 Reviews)

$24.99

$5 Manufacturer's Rebate Available

(23 Reviews)

$36.99

Free Standard Shipping

(200 Reviews)

$14.99

Beyond Value

(36 Reviews)
$9.99 - $24.99
(7 Reviews)

$129.99 - $179.99
(3 Reviews)