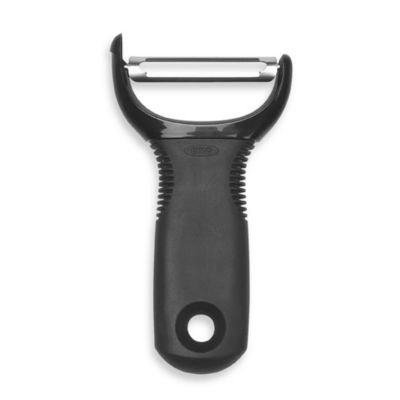 OXO Good Grips® Black Peeler
Similar Items
The item you viewed above is out of stock. We also suggest:
Built-in potato eyer
Measures 6" L
Dishwasher safe
SKU # 10162890
OXO Good Grips® Black PeelerAt OXO we know peelers. Our original line of a dozen kitchen tools launched in 1990 and the first runaway hit was a peeler. Thanks Sam Farber. Named for its distinctive shape, the OXO Y Peeler features a sharp, stainless steel blade that glides through even the toughest fruit and vegetable skins with ease. The soft, broad, comfortable handle, cushions your hand as you peel and is non-slip, even when your hands are wet. The Y Peeler also features a handy ire for removing blemishes and is dishwasher safe. Here's a good tip: though American consumers are split about their preference for a standard swivel peeler or Y peeler, in Europe, the Y peeler is the preferred tool.
Related Searches