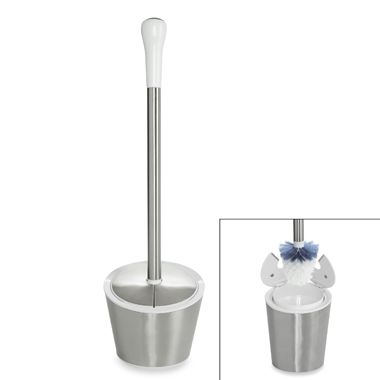 OXO Good Grips® Stainless Steel/White Toilet Brush
Toilet brush features a tapered head for deep cleaning in hard to reach places
Handle does not spin in your hand and is designed for a secure, comfortable grip
Measures 19" H
SKU # 17336770
OXO Good Grips® Stainless Steel/White Toilet Brush
3
4
Horrible purchase
Becomes very rusty at the bottom, stained the bathroom tiles! STAY AWAY from this product even if the style and functionality are very attractive!!! I am tempted to return it to Bed Bath & Beyond even if I don't have the receipt anymore!
August 30, 2014
One of the worst products designed ever
This is one of the worst purchases I have ever made on anything! Looked nice, even though expensive. Brush is useless, does not clean the bowl, cannot get under the rim, handle becomes loose, screws at the bottom become rusty, and whole thing is rusty even though it says stainless steel. Stay away from this.
December 14, 2013
Major fail Oxo!
I bought 3 of these in the store because they looked nice and had an interesting closure on the top. It turns out looks are all this product has. Fortunately I had the sense to try one out before I used the other two (which were promptly returned). First of all, they are not ergonomically easy to use. The cone shape of the brush doesn't fit the toilet bowl and its almost impossible to clean under the rim. Secondly, after using it for a couple of months, the bottom of the stand is rusting out. The water from the brush pools under the plastic holder with no way to evaporate out of the metal container and now way to pour it out without making a mess. Guess I'm back to the cheap ugly brushes that actually do the job.
January 16, 2013
Related Searches:
Similar Products:
Also check out:
$9.59

Free Standard Shipping

Price reflects 20% instant rebate

(20 Reviews)

$12.99

Exclusively Ours

(2 Reviews)

$12.99

Free Standard Shipping

(27 Reviews)

$9.99

Free Standard Shipping

(10 Reviews)