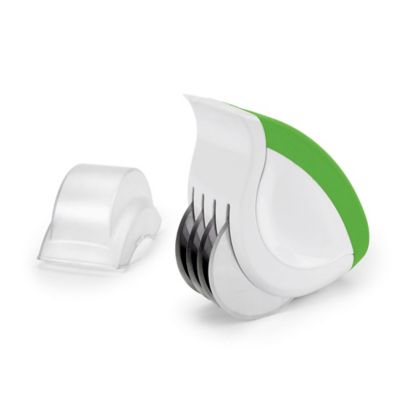 Oxo Good Grips® Herb Mincer
A soft, non-slip grip keeps hands away from blades while cutting.
Use the front end as a scraper to gather herbs into a pile for more efficient mincing.
The mincer opens partially to wipe the blades free of collected herbs and separates completely into two pieces for easy cleaning.
The plastic cover prevents blade from being exposed during storage.
Dishwasher safe.
SKU # 16074128
OXO Good Grips® Herb Mincer
3
5
OXO Good Grips Herb Mincer
Enjoyed using it as it is so much faster than cutting herbs with the scissors especially when you need 1/4 to 1/2 cup herbs in your recipe.
August 8, 2014
Nice tool!
We've been eating more fresh vegetables and herbs and this works well to mince herbs as well as fresh spinach leaves. We have omelets in the morning with cheese and spinach inside, and this works well to mince the leaves into small bits. It offers a good hand hold and is easy to clean and disassemble for the dishwasher. I kind of wish its wheels were sharper, but I suppose they didn't want them to be too sharp and risk liability suits. If you bear down rather hard it works OK.
April 7, 2014
Best purchase ever
I love it... I chop cilantro and onions all the time now!
November 15, 2012
Related Searches:
Similar Products: