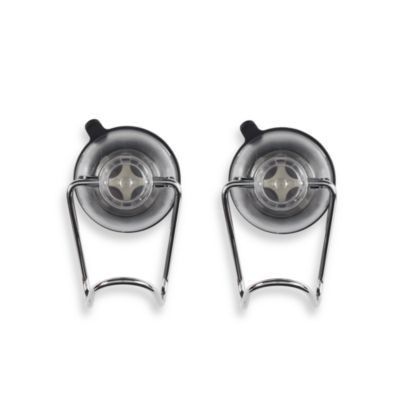 OXO Good Grips® StrongHold™ Suction Hooks (Set of 2)
Simply press suction cup button and listen for the "click" to know the suction is activated
When it's time to remove or reposition the accessory, simple pull the release tab to quickly deactivate the suction
Hooks are perfect for keeping loofahs, body brushes, washcloths and more handy
Measures 7 2/5" L x 4 2/5" W
SKU # 18160234
OXO Good Grips® StrongHold™ Suction Hooks (Set of 2)
7
8
Not good for most surfaces
Very few surfaces anymore will allow these type of suction cups to work.
September 21, 2014
They look great!
I purchased several. Three of the six are holding securely, but the other three just aren't doing their job! Don't understand it, but I'll keep trying. I gave it a "Good" because the ones that work are great and I love the look.
September 12, 2014
Great!!!!
You get what you pay for. Yes, these cost more than what else is sold at 2 competitors but they work!!!!!!!!!!!!!!!!!!!!!!!! I should have saved gas and ware on my car by just buying these first. Further more, the person who gave these a one star rating was trying to stick plastic suction cups to wood. Suction cups need a NON POROUS surface. Stay in school kids!
April 24, 2014
Good but a bit pricy
New tile in bath, works great. Like most suction products they need a cleen, smooth, and nonporous surface to work well. When used on old tile Clemens well and wipe with rubbing alcohol. Marble might be too "soft" and wood is too porous for these to work.
July 24, 2012
Great Products!!
Overall, OXO suction products are amazing! Any one who would say otherwise isn't paying attention to the fact that these products are for smooth/glossy/glass type surfaces. Not wood or any other random surface. These things stick like no other! If you have the right surface, these things are definitely the bang for your buck!
June 2, 2012
it did not stick on wood for any length of time and left a black mark that can not be removed. So I bought a bad product and it did permanent damage. Not good at all.
May 30, 2012
Just what I was looking for
After reading reviews by others who reported the hooks falling down, I was hesitant to buy them, but finally decided to take a chance. The instructions that come with them advise that they must be used on a smooth, glasslike surface, such as glazed ceramic tile. I wonder if some people are trying to make them work on prefab fiberglass? Mine are on glazed tile and haven't fallen once. I use them for (wet) washcloths and also have a bar of soap hanging on one. Every time I take a shower, I push on the suction buttons as recommended, to make sure they stay put.
October 26, 2011
Related Searches:
Similar Products: