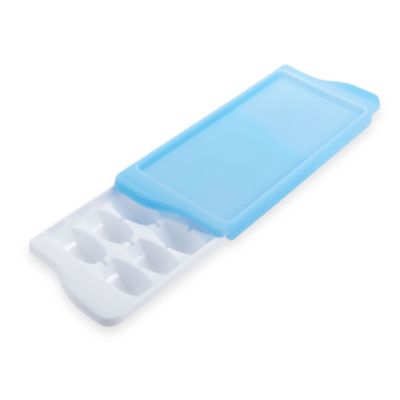 OXO Ice Cube Tray
Round ice cubes release easily
Dishwasher safe
SKU # 11894224
BEST ICE CUBE TRAY....EVER!!
Finally!! An easy to use, easy to stack in freezer, easy to empty ice cube tray. Absolutely love it.
August 4, 2014
GREAT product at a NICE price!
I bought these to replace Tupperware ice cube trays which are no longer manufactured. This are very well made, easy to use, and the price is nice!
August 14, 2013
Clever Idea
I was desperately searching for a replacement for my cheapo plastic ice cube trays that had become cracked due to overuse I guess. i went online and did a wee bit of sleuth work and found that the OXO tray came up over and over again as a winner. I loved the idea that the cubes were covered. There is nothing like finding bits of freezer food particles in your cubes as you are getting ready to drop them into your guests' glasses! Yuck! So i bought the OXO Ice Cube Tray. I really like the way the cubes slip out of the tray. The tray's sturdiness is outstanding. And as I said before the cover is great and makes them easy to stack. My only comment, and not really negative is that sometimes the cover is impossible to pull back. This would not be a tray for someone with arthritis! You really need to hold on in order to slide that sucker open. Overall, I love the trays! so go and buy them, now, I'll wait.
May 9, 2013
Good quality!
I like everything about these ice-trays and they are a refreshing change from our foul tasting ice-maker cubes! These trays are well-made and the cubes are medium in size. Can use with or without the covers; we don't need the covers because we use the ice up quickly and therefore don't need to worry about absorbed odors from the freezer. Highly recommended!
December 13, 2012
Easy ice
Love these ice cube trays...stackable,so they take up less freezer room...ice tastes fresher...would buy again
July 15, 2012
They're clever, and they work!
LOVE, LOVE, LOVE! OXO, does it every time. I buy a lot of OXO products because they work. These ice cube trays are no exception. Ice cubes slide out thanks to the rounded bottom. They are a bit wider than your average tray, however flatter. Love the slide on lid; makes stacking the trays easy, reduces spillage from faucet to freezer, and ice tastes clean and fresh! You can also control how much ice you release thanks to the lid. Highly recommended!
November 26, 2011
Superior!!
Not everyone needs ice cube trays these days but we do because we have an apartment size refrigerator and believe me, finding trays local stores isn't easy anymore. The ones we did find were cheap, didn't work easily and cracked within weeks. The OXO tray is made of quality plastic, the lid guards against spills while taking newly filled trays from sink to 'fridge, the curved cube shape means ice cubes slide right out. Small notches along the tray surface make it easy to distribute water evenly so you don't end up with some full size ice cubes and other skinny ones. Any ice cube tray is a pretty basic item, but it's a pleasure to finally find a design so well thought out.
July 6, 2011
Wonderful
This is the BEST design I have ever found for ice cube trays! I found them by accident and have loved them. The open tray cubes will start to pick up freezer odors and begin to evaporate if not used within a short time. This does not happen with these trays.
June 22, 2011
Related Searches:
Similar Products:
Also check out:
16 Piece Set $24.99
(12 Reviews)

$4.99

Beyond Value

(12 Reviews)

$24.99

$5 Manufacturer's Rebate Available

(25 Reviews)

Twin $19.99 - Cal King $34.99
(26 Reviews)

$29.99 Each

Beyond Value

Exclusively Ours

(19 Reviews)

$9.99

Exclusively Ours

(4 Reviews)

$29.99

Beyond Value

(6 Reviews)

$19.99

Bonus 5.75 quart Dutch Oven with $149.99 Cuisinart Purchase

(3 Reviews)

$14.99

Beyond Value

(37 Reviews)

$5.99

Beyond Value

(16 Reviews)