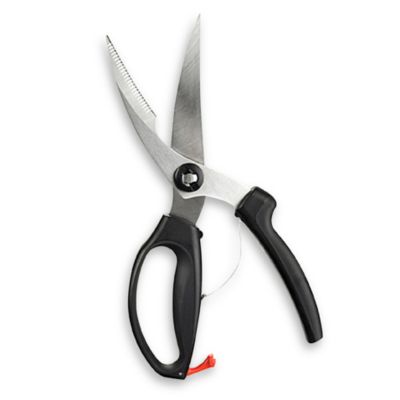 OXO Poultry Shears
Curved, tapered blades allow access to hard to reach places
Blades separate for thorough and easy cleaning
Hand wash
SKU # 16747530
Great kitchen shears
Glad I bought it. Cleaning is easier since it can come apart
July 11, 2013
great product
I have two large dogs and I prepare food for them each day consisting of chicken, so I use these scissors every day. I've had them for several months and they work great. I love how they come apart for cleaning. Even with so much use, they've stayed sharp. I love them and if I ever need to get another pair, I would get these again.
September 13, 2012
It's all about using the right tools
These are great shears; comfortable, sharp, easy to clean. The difference is so noticeable when you've been using cheaper products before. And while probably not good for the longevity of the product, my wife actually successfully used these to remove my son's arm cast when we were told we had to wait two extra weeks for the next appointment!!! And yet they're still working fine for poultry.
December 3, 2011
very pleased
Saw Jacque Pepin using shears on tube and it looked easy. Bought these shears and sure enough, it is. Makes working with poultry very simple.
December 1, 2011
Related Searches:
Similar Products: