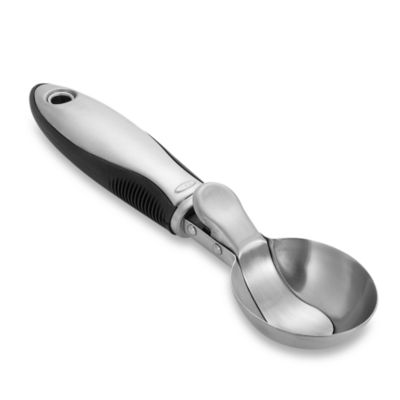 OXO SteeL® Lever Ice Cream Scoop
Features a brushed stainless steel scoop and a convenient hole for hanging
Dishwasher safe
Lifetime manufacturer's warranty
SKU # 11731520
OXO SteeL® Lever Ice Cream Scoop
3
3
Great, easy to use!
I registered for this scoop for my wedding, and have been using it since. Really easy to get the ice cream out, no problems with it sticking!
July 2, 2013
handy!
I have had many different scoops and none of them compare to this one. I love that it has just the little lever that pops up when you push the handle. The kind that scoop around the inside always seem to break so easily but this shows that it is going to hold strong! I have been looking for a good ice cream scoop for a long time and I believe I have finally found it! We have used it to make ice cream cones and sundaes, to make pancakes (as a batter scooper), and to scoop and serve mashed potatoes. It works so well on all of it!
August 15, 2011
Not bad, but not great either...
This scoop does it's job as far as scooping the ice cream - no problems there. The problem I have with it is that it doesn't release the ice cream very well. The ice cream almost always sticks to the little lever and I end up having to use my fingers to get it to drop off into the bowl. I would rather have one of those with the little loop that sweeps across the scoop part...
July 11, 2011
Related Searches:
Similar Products:
Also check out:
$14.99

$50 Bonus Gift card with $300 Calphalon Purchase

(21 Reviews)

$9.99

$50 Bonus Gift card with $300 Calphalon Purchase

(7 Reviews)

$11.99 - $15.99
(7 Reviews)
$8.99

Beyond Value

Exclusively Ours

(6 Reviews)

$19.99

$50 Bonus Gift card with $300 Calphalon Purchase

(33 Reviews)