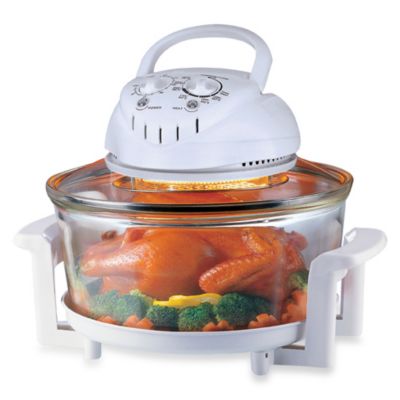 Oyama Turbo Convection Oven
The circulating hot air cooks meals faster and in their own juices without burning
Dial to easily select your cooking temperature and cooking time
Unit has a safety featured locking handle during cooking, so unlocking the handle stops cooking automatically
A wire rack delivers elevated cooking that allows oils to drip away from food, and the heating coil ensures long life and durability
The lid has a built-in fan for hot air circulation
Measures 15"L x 14"W x 10"H
One-year warranty
Model # TRO-110B
SKU # 17968467
Oyama Turbo Convection Oven
4
4
Beyond Horrible
I bought this to replace my ancient tabletop convection oven that I only used to cook bacon. This was the cheapest model. After attempting to get the bacon to sizzle for 45 minutes on the highest setting, I finished it off on the stove. Worthless!!! Spend the extra money and get the Sharper Image oven.
September 19, 2013
Love this!!!
I've had mine for several weeks now, and I have tested many dishes in this oven to understand what it can and cannot do well. The manual, if you can call it that, does not provide much useful information at all. You really are on your own to figure it out. That said, I have made roast vegetables, gratins, fish, chicken, pork chops, and much more, and so far I am favorably impressed. I like it so well, I am considering giving these as Christmas gifts this year. I usually use a brown Graniteware pie pan as a baking dish (fabulous!) but I have used porcelain dishes as well. EVERYTHING has turned out better than my expectations. For small dishes, this oven is a real gem. Roast chicken thighs turn out awesome, with crispy skin and moist and tender meat. Roast potatoes, cubed, seasoned, and lightly oiled are scrumptious and soooo easy to make. Gratins brown beautifully. Fish was moist and succulent. Roasting chicken thighs works best if you roast skin side up for 10 minutes, flip and roast skin side down for 10 minutes, and then flip skin side up for 5 to 10 minutes, depending on the size. Easy! Nice not to make a mess of my big oven, too. I do have to keep an eye on the browning part, because of the small size and intense heat, food cooks faster. Some items, like gratins, are better covered and placed on the lower rack until done, and then uncovered to brown on the upper rack. Foods really do cook faster, and I love saving time and energy when I cook. I live in central Texas and it is too hot to use my oven in the summer. This oven gives me the option to bake or roast dishes without adding so much extra heat in the kitchen. This is a great tool for side dishes, or for cooking smaller quantities. I usually cook main dishes for myself or for two. It will hold my porcelain quiche dish quite comfortably, but I am not sure how well it would bake a quiche. I will likely try it at some point. I'm not sure how it would bake the bottom of the crust. Prebaking the crust might over brown it? I preheat my oven, and use the grabber-device provided to add or remove dishes in the oven. The outside does get very hot, so I am mindful of that. The grabber works quite well, and if I need to remove the lid, I set in in a cast- iron skillet for the moment. So far, so good. Two racks provide a choice for baking, and usually I use the lower rack. After use, if it needs cleaning, I carefully place the cooled glass bowl into the sink. As for the lid, I mostly just have to clean under the lid. The oven is super easy to clean and it sparkles when I'm done. Since the lid cannot be submerged due to the electronics, the metal part will collect splatter, but some can be removed. Often, it needs no cleaning at all. Gotta love that! I looked at various models online, and some ovens use halogen as a heat source. I thought that seemed like a smart idea, but I read too many comments from people who had them for only a few months before the halogen bulb quit, only to find out that they could not be replaced. Those ovens usually cost a lot more, too. Halogen would heat faster, but I decided on this model and I am delighted with my product. I know a couple of people who have the halogen type, and they love theirs. I have been able to bake and roast again, without using my big oven, and I love how easy and fast it is, along with excellent results. I highly recommend this product.
August 30, 2013
Great Little Oven
Cooks quickly, quicker and better than built-in and wastes less energy esp for small things. Easy to use.
November 9, 2012
Great Product! Long lasting!
My mom purchased this from an Asian grocery store. She's had it for almost 3 years now...no problems whatsoever. She cooks chicken, fish, steak, cookies, muffins, etc... in there. She uses this everyday & it's been working just fine. The oil drips to the bottom, so less fat in your food. Very healthy cooking. Glad to see they offer this at Bed, Bath, & Beyond. I definitely recommend this to everyone.
November 13, 2011
Related Searches:
Similar Products: