Pandigital® Novel 7-Inch Color Multimedia eReader Carrying Case in Black Leather
Pandigital® Novel 7-Inch Color Multimedia eReader Carrying Case in Black Leather
6
8
Perfect
I have tried many different covers for my "WHITE" Pandigital Novel-7 most did not come close to fitting, All were to small. This case is made for the "WHITE" one the holes match perfectly , the only thing I did was to put a grommet in the side, by the charger hole, so I can charge it with the cover closed. Best buy I made since I got the reader.
August 18, 2014
Perfect Fit For White Novel
Actually bought this product at Office Max. No where on the package (which is from Pandigital) does it say "leather". I seriously doubt it is leather for the price. Leather ones are much more. Brought my Novel with me to store to check it out and at first thought the openings did not line up. Haha, the guy had put it in upside down. It definitely does the job. 20% coupons cannot be used for on-line orders, even though you cannot buy this in the store. Not so good on that option.
June 2, 2011
Good Investment
I purchased this case when I bought my Pandigital Novel in October. I have found it to be a good protector of the item and you can actually put a stylis in the corner. I have the white Pandigital Novel and it fits very well. All the holes line up and you do not have to remove the item to charge it or use earpieces. I don't know if it fits the black Pandigital Novel. I have not seen that model in the store. I only wish the case came in other colors besides black as we have 2 e-readers and 2 cases in my house.
April 17, 2011
It does fit the new color android model
After deliberating about a month over which case to buy, and even calling Bed Bath to find out the model # (which was NOT the one that Pandigital lists for this model), I decided to take a chance on this one. And it fits the latest white version (the one that says Android on the box). All the holes and switches do line up perfectly. It's a snug fit. Quality is okay. The magnets don't always hold it closed as it's such a tight fit, but I think after use, it will loosen up and be fine. That's the only reason I didn't give it 5 stars. Price can't be beat 29.99 less 20% with an on line coupon. (If you don't have an online coupon, I was told if you bring it to the store with your store coupon, the 20% could be deducted.)
March 22, 2011
Happy With It
I am fairly happy with this case. I have the white Pandigital Novel 7 and all the holes in the case for the connections do line up with the device ports, it does fit snugly in the case and will not just fall out. My case could have been sewn better as at first I could not get the magnets to hold the cover closed, but my husband worked with it and finally it does just fine. I think the description for this product could have been a lot more thorough. The leather (which probably isn't high quality) is embossed with a faux croc pattern and the case closes with magnets. There is no pocket inside the cover. There absolutely should have been mention of exactly which Pandigital ereader this case fits. If you go to the Pandigital website to view their products, you will find that there is a product listed for their white ereader and another listed for theie black ereader. It would be very important in ordering to know which ereader the product is going to fit. I got lucky. JohnG did not.
February 28, 2011
Very disappointed
It does not fit the e-Reader very well. The holes in the case for the connections do not line up with the device ports. You have to remove the e-reader to charge it and to turn it on and off. The e-reader fits very loosely in every dimension and slides out easily. It is very difficult to extract te pointer without removing the entire e-reader from the case. The outside is a low grade immitation leather -it is very plastic looking. Terrible design. Wait fo the next version to come out. I have the black e-reader, which is supposed to fit this case.
February 7, 2011
Related Searches:
Similar Products: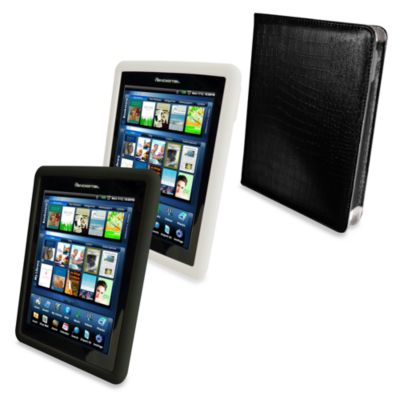 Novel 7-Inch Color Multimedia eReader Carrying Case
Price:
$7.5
Colors:
clear, purple
Categories:
More > Audio & Electronics > Tablet & Phone Accessories
Keep your Novel 7" Color Multimedia eReader looking like new with this convenient and stylish portfolio carrying case. It protects the screen and finish while still letting you read, surf and play.
Also check out:
$44.99

$5 Manufacturer's Rebate Available

(1 Review)

$19.99

$9.99

Clearance!

(1 Review)

$14.99 Each

Clearance!

(6 Reviews)

$19.99

$9.99

Clearance!

(4 Reviews)
$7.99 - $12.99
(6 Reviews)

$19.99 - $32.99
(2 Reviews)

$1.99

Clearance!

(1 Review)

$14.99

$9.99

Clearance!

(11 Reviews)

$1.49

Fragrance of the Month

(16 Reviews)

$1.99

Clearance!

(2 Reviews)
$79.99 - $129.99
(5 Reviews)