"Pet Top® Combo-Pack™" is not available for sale online.
This item may be discontinued or not carried in your nearest store. Please call your local store to check in-store availability before heading there. For informational purposes, the product details and customer reviews are provided.
Related Searches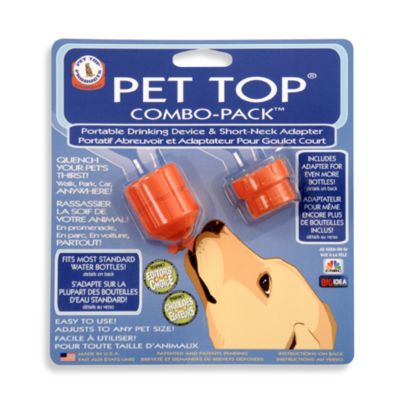 Pet Top® Combo-Pack™
The Pet Top® Portable Drinking Device is a unique patented bottle top which fits most standard water bottles and is designed to provide a neat and convenient water supply for your pet when you're on the go and can't be bothered with the mess, hassle and waste of pouring water into a bowl.
Great accessory for your pet on long walks, in the park or on long trips.
Ideal for saving water and dispensing liquid-based supplements.
The Pet Top® Short-Neck Adapter attaches to the Portable Drinking Device and fits "eco-friendly" bottles, case-pack waters and other short-neck bottles.
Set includes Portable Drinking Device and Short-Neck Adapter.
Top rack dishwasher safe.
SKU # 17019384
Pet Top

Wouldn't you like to quench your pet's thirst anywhere without the mess, hassle, and waste of using a bowl or other contraption? Well, now you can with the patented, award-winning Pet Top Portable Drinking Device for pets.

Just put it on most any standard water bottle. Open the top to just the right size for your pet. Hold it upside down, and let your pet lick. No squeezing, no pouring, no hassle. From Chihuahuas and terriers to bulldogs, shepherds, retrievers, even Great Danes, all can get just the right amount of water anywhere. Great for walks, parks, beach, car, boat, plane, hunting, hiking and running, anywhere you're out with your pet. Also helpful for sick or older pets who can't use a bowl.

Opening the upper cap allows the internal ball to move and water to flow at the rate you set. Ratchet action keeps it set, and markings show the best setting for your pet. When done, close it for a tight seal, and you're good to go. No more lugging bulky bowls. The Pet Top Device is small enough to fit in your pocket, purse, or glove compartment. No more spilling water into your hands. No more germ-filled dog park bowls. No more pets gagging from squirting or pouring bottles. And no more wasting half your water. Look at that. If you're buying bottles, that adds up fast.

Your Pet Top products are BPA-free, dishwasher-safe, and made in the USA. Now get the original Pet Top Portable Drinking Device as well as our new short-neck adaptor for even more bottles, including new eco-friendlier bottles using less plastic, and most warehouse, club, and supermarket waters. Between both, you can use all these bottles and more. And now you can get both together in the convenient Pet Top Combo Pack.

Thank you, and we hope you enjoy your Pet Top products.
Related Searches