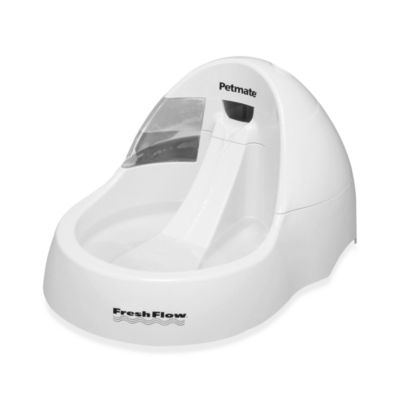 Petmate® Espresso Fresh Flow Water Medium Fountain
Equipped with a charcoal filter that removes impurities in the water to keep water fresh and clean
50-ounce capacity
One-year limited manufacturer's warranty
SKU # 16887056
Petmate® Espresso Fresh Flow Water Medium Fountain
3
3
Perfect for small cats & dogs!
We purchased a drinking fountain similar to this but twice the size about a year ago. I believe it was whisker city brand. It was a pain to clean and the pump always broke and was pretty loud. Did I mention how much of a pain it was to clean?? Well, we have two 6lb cats and a 12lb Pekingese and thought this new fountain would maybe be too small but decided to try it. The other fountain broke for the last time and i was done with it. We had a bed bath & beyond gift card and a 20% coupon (& free shipping) so I figured to buy a fountain from here and test it out. I love the fact that it was super easy to put together and super easy to take apart to clean. It's half the size of the whisker city one but works perfectly for my pets! The way to fill it up makes more sense than the other one. The dispenser is very clever. I love that I can see when the dispenser is low and I just need to fill that up. It literally takes me 1/4 the time to clean it because of its size and ease to disassemble. It is only loud when it's really low on water otherwise it's pretty quiet! It took 2-3 days for the animals to actually like it since it had a smaller area to drink out of and it has a slide of water instead of an actual fountain. I love it (when compared to our cruddy one at least!) Oh yes, before I ordered this particular fountain, I bought the Animal Planet one in the store at bed bath & beyond. It was horrible! It's made of cheap plastic and the valve did not work. I'd fill it up and come back to find the entire thing overflowing onto the floor. Waste of money on that. This Fresh Flow fountain is the best for the money so far!
July 4, 2013
Nice
It's okay, but I ended up buying a different one (keeping this one) for the downstairs that is more like a real fountain -which my cats love!
August 3, 2011
works well
I was given this product as a gift. My cats love it! They love the water stream and often drink from there. The only problem is that many of the stores that sell this water unit do not sell the filters. I have had no problems finding the filters at pet stores though. Would definitely buy again. Comes totally apart for cleaning.
November 5, 2010
Related Searches:
Similar Products: