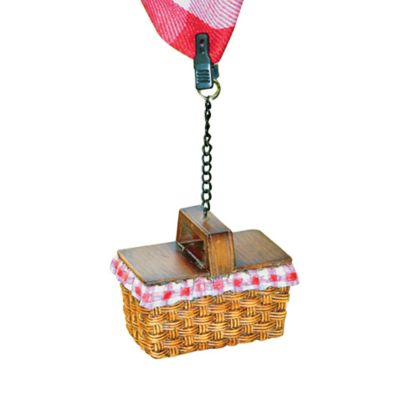 Rome Industries® Picnic Basket Tablecloth Weights (Set of 4)
Constructed of resin with metal clips.
Each measures 2.5" L x 1" W.
SKU # 18155630
Ask your questions. Get answers from the community.
Ask your questions. Share your answers.
The description says they're made of resin, so I can't imagine these are very useful if that's the case. Now if they have a heavy metal core underneath the resin, then that's another story.
Posted by
Bullwinkle
San Diego, CA, USA
2 weeks, 5 days ago
0
out of
0
found this question helpful.
Was this answer helpful?
helpful
0
unhelpful
0
http://answers.bedbathandbeyond.com/answers/2009/product/1018155630/question/1904670/undohelpfulness.djs?format=embeddedhtml&sessionparams=__BVSESSIONPARAMS__&return=__RETURN__&innerreturn=http%3A%2F%2Fanswers.bedbathandbeyond.com%2Fanswers%2F2009%2Fproduct%2F1018155630%2Fquestions.djs%3Fformat%3Dembeddedhtml%26scrolltotop%3Dtrue%26expandquestion%3D1904670&user=__USERID__&authsourcetype=__AUTHTYPE__&submissionparams=__BVSUBMISSIONPARAMETERS__&submissionurl=__BVSUBMISSIONURL__
Answers
Answer: 
Only the clips are metal.
Posted by
Additional information about CommunityAnswer could not be loaded.
2 weeks ago
0
out of
0
found this answer helpful.
Was this answer helpful?
helpful
0
unhelpful
0
http://answers.bedbathandbeyond.com/answers/2009/product/1018155630/answer/1860494/undohelpfulness.djs?format=embeddedhtml&sessionparams=__BVSESSIONPARAMS__&return=__RETURN__&innerreturn=http%3A%2F%2Fanswers.bedbathandbeyond.com%2Fanswers%2F2009%2Fproduct%2F1018155630%2Fquestions.djs%3Fformat%3Dembeddedhtml%26scrolltotop%3Dtrue%26expandquestion%3D1904670%26expandanswer%3D1860494&user=__USERID__&authsourcetype=__AUTHTYPE__&submissionparams=__BVSUBMISSIONPARAMETERS__&submissionurl=__BVSUBMISSIONURL__
Related Searches:
Similar Products: