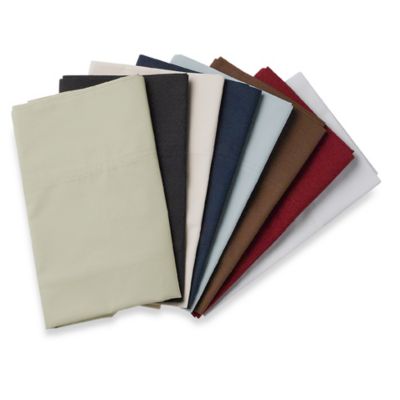 Wamsutta® Perfect Pinpoint Open Stock Fitted Sheet
100% Egyptian cotton
360 thread count
Twin and Full fitted sheets fit mattresses up to 15"
Queen, King and California King fitted sheets fit mattresses up to 18"
Machine wash
Imported
Wamsutta® Perfect Pinpoint Open Stock Fitted Sheet
42
50
Better late than never
Ordered 2 fitted sheets. One was shipped from California, the other from Washington DC. The one from California arrived but the one from Washington didn't get picked up by the carrier so I called a week after the tracking site said it was to be picked up and the agent was kind enough to expedite it to me. Sheets are great, just took awhile to get.
September 29, 2014
Sheet
The sheet is made and fits well. Great product for the price!
September 29, 2014
These good-looking sheets will bring a cool, crisp look to your bed. Plus, they'll feel great when you're sleeping.
September 29, 2014
Wamsutta Perfect Pinpoint XL Twin fitted sheets
Purchased my first set about 3 months ago and loved them! Decided to go back and get another set. I was disappointed to find out that they are being discontinued. I was able to get two sets on-line.
September 1, 2014
great deal for the money
I recommend these sheets to anyone that is sick and tired of those 400-600 cotton sheets that never ever look the same once they are washed. The blend keeps these from wrinkleing and they feel crisp and keep their color. I will buy more of them in the future.
July 30, 2014
Nice Product Shipping Time not good
For the price you get exactly what was described. Reasonable construction and I feel they will last a while but only time will tell. Shipping took over a week.
July 21, 2014
Wrinkly cotton
I was disappointed in these sheets. I washed them with another all-cotton Wamsutta that I already own ... I think it was a "supima" ... and it came out great, while these were a mass of wrinkles. I'll be ironing. I thought long-fibre Egyptian cotton would great ... not so much. Also, I think 400-count should be smoother.
July 8, 2014
Suitable for the Price
I hate buying sheet sets. It is the bottom sheet that always wears out first, then you are left with too many pillow cases and top sheets. End up using these cases and flat sheets as drop cloths, shoe bags when packing, car seat protectors, etc. I have purchased higher quality sheets that could last many years, but I am lucky if I get 1 year out of any bottom sheet, no mater the quality. So, why pay alot of money? Reason for my bottom sheets wearing quickly is I have pets. My 2 small dogs like to get under the covers. They perform that dog ritual of making their nest, eventhough there are no leaves, etc. to manipulate. The scratching wears on the fabric eventually. We love them in our bed and would never think of excluding them. And, 1 of our cats likes to bat and scratch at the bed when someone is in it, like a game. Often a claw gets caught making a little hole, that eventually becomes a tear. So, if a bottom sheet lasts > 1 year, unusal. Yes, we are pet owners that allow our pets much leeway. By the way, who cares if a sheet wrinkles, you aren't wearing it.
July 3, 2014
Related Searches:
Similar Products: