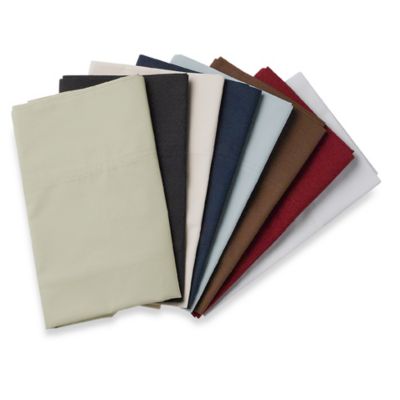 Wamsutta® Perfect Pinpoint Open Stock Fitted Sheet
100% Egyptian cotton
360 thread count
Twin and Full fitted sheets fit mattresses up to 15"
Queen, King and California King fitted sheets fit mattresses up to 18"
Machine wash
Imported
Wamsutta® Perfect Pinpoint Open Stock Fitted Sheet
38
43
great deal for the money
I recommend these sheets to anyone that is sick and tired of those 400-600 cotton sheets that never ever look the same once they are washed. The blend keeps these from wrinkleing and they feel crisp and keep their color. I will buy more of them in the future.
July 30, 2014
Nice Product Shipping Time not good
For the price you get exactly what was described. Reasonable construction and I feel they will last a while but only time will tell. Shipping took over a week.
July 21, 2014
Wrinkly cotton
I was disappointed in these sheets. I washed them with another all-cotton Wamsutta that I already own ... I think it was a "supima" ... and it came out great, while these were a mass of wrinkles. I'll be ironing. I thought long-fibre Egyptian cotton would great ... not so much. Also, I think 400-count should be smoother.
July 8, 2014
Suitable for the Price
I hate buying sheet sets. It is the bottom sheet that always wears out first, then you are left with too many pillow cases and top sheets. End up using these cases and flat sheets as drop cloths, shoe bags when packing, car seat protectors, etc. I have purchased higher quality sheets that could last many years, but I am lucky if I get 1 year out of any bottom sheet, no mater the quality. So, why pay alot of money? Reason for my bottom sheets wearing quickly is I have pets. My 2 small dogs like to get under the covers. They perform that dog ritual of making their nest, eventhough there are no leaves, etc. to manipulate. The scratching wears on the fabric eventually. We love them in our bed and would never think of excluding them. And, 1 of our cats likes to bat and scratch at the bed when someone is in it, like a game. Often a claw gets caught making a little hole, that eventually becomes a tear. So, if a bottom sheet lasts > 1 year, unusal. Yes, we are pet owners that allow our pets much leeway. By the way, who cares if a sheet wrinkles, you aren't wearing it.
July 3, 2014
Cool!
I love these! They really do keep us cooler than other cotton sheets. I have adjustable beds so I have to buy xl twin fitted and king flat. These are affordable and I will buy more.
June 30, 2014
Wamsutta Cotton Sheets
I've been a fan of Wamsutta cotton sheets for decades. It continues to be a great product and long-lasting. Cotton is supposed to wrinkle. If this is objectionable, ironing will take care of the wrinkles.
March 31, 2014
Fantastic
These sheets are how I remember those crispy sheets of when I was a kid. That wash up great and feel great to sleep it! Kudos Wamsutta !
March 21, 2014
Wamsutta Pinpoint 360 White sheets
I love these sheets! I have had the white fitted bottom sheet for over a year and decided to get the top sheet and pillowcases the other day to finish out the set. I was so disappointed to see that they were being discontinued! THESE ARE COOL CRISP COTTON SHEETS...JUST WONDERFUL! They are comfortable in the Summer and Winter. When you run your legs over them at night they are crispy and smooth and there is a crisp sound...I love them! I am calling around now to get a couple more sets for other beds before they are gone. I hate it when I love something and they discontinue it! As for washing....I use the "cool-down cycle" on my dryer and remove and fold them right away and they are lovely. I haven't had any problems with fit on my new full size pillow top mattress or queen size platform bed with foam mattress. I really don't understand the bad reviews.
March 15, 2014
Related Searches:
Similar Products: