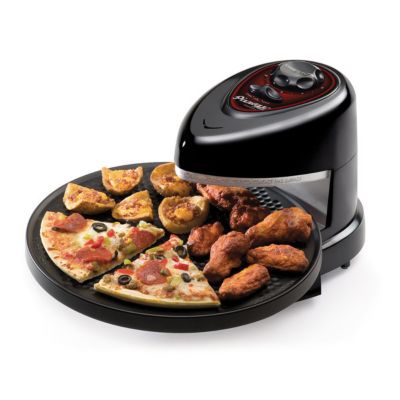 Presto Pizzazz Pizza Cooker
Fits any 7-12 inch pizza (fresh, frozen, regular or rising crust) and it automatically shuts off when your pizza is done
The timer sounds when the baking cycle is over
Features a non-stick, removable baking pan that's easy to clean
UL listed
Two-year limited warranty
Measures 9" H x 13.25" W x 17.75" L
Model # 3430
SKU # 11975038
Presto Pizzazz Pizza Cooker
7
7
Perfect for dorm life!
We purchased this with the idea that our son could use it in his dorm. It cooks pizza beautifully! Our only concern is that the rotating pan is not very securely attached to the rotating structure. There needs to be additional means of securing the cooking pan. Have not tried wings or any other recommended food items, but it works for the pizza!
September 19, 2013
Best thing for making pizzas
I bought one of these years ago (over 10) as my son loves pizza. He made many pizzas on it and I have replaced it once. I have bought this for wedding gifts and they love it. If the pan bends you can get a replacement pan on amazon...FYI. GREAT PRODUCT and GIFT!!!
June 5, 2013
gotta get one
this is the greatest. Makes pizzas, nachos, cheese toast, chicken wings.
November 19, 2012
Great Product
This DOES do what it says it does! Cooks pizza better than the oven! My only issue is I dropped the round pan on the floor and it slightly dented and now it will not turn on the cooker and we have tried to fix the dent but not having luck so now I have to figure out how to get a new pan! So overall I would say, cooks well just be very gentle with the pan, don't drop it!
November 5, 2012
Love it!
I would definitely recommend buying this! Its easy to clean and doesn't take up very much space on the counter top. We use our pizzaz several times a week and I have tried other food on it than just pizza. I would recommend it to anyone who has a pool or spends alot of time outdoors! Its great when you have people over and can make a pizza in less than 12 minutes!
July 16, 2012
Second Pizzazz
This is my 2nd Pizzazz. My first one was a gift for Christmas by my crew at the time. It was 11 years ago. A couple of months ago my first Pizzazz stopped turning. Broke my heart. My replacement has a slight upgrade. Gettin' fat eatin' pizzas again.
January 4, 2012
Perfect Pizza
My fiance and I got the Pizzazz for Christmas a couple years ago and we LOVE it. We use it all the time. It takes a couple times using it to determine the best time to put it at, but once you get it right, it seriously makes a perfect pizza - no preheating required.
June 19, 2011
Related Searches:
Similar Products: