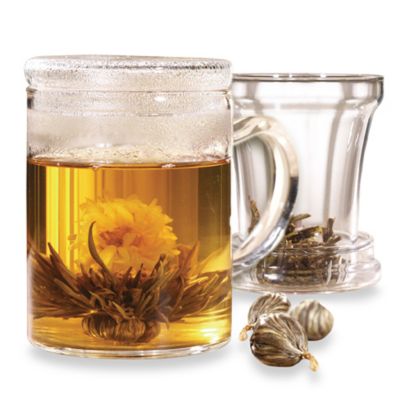 Primula Tea® 12-Ounce Tea Maker
Includes a glass tea infuser that's perfect for brewing loose teas along with a tea flower sample.
Includes tea maker, lid, infuser and tea flower sample.
Holds 12 ounces.
Dishwasher, Microwave and stovetop safe.
SKU # 16358002
Ask your questions. Get answers from the community.
Ask your questions. Share your answers.
Posted by
Marilyn
Mi.
3 weeks, 1 day ago
0
out of
0
found this question helpful.
Was this answer helpful?
helpful
0
unhelpful
0
http://answers.bedbathandbeyond.com/answers/2009/product/1016358002/question/1894007/undohelpfulness.djs?format=embeddedhtml&sessionparams=__BVSESSIONPARAMS__&return=__RETURN__&innerreturn=http%3A%2F%2Fanswers.bedbathandbeyond.com%2Fanswers%2F2009%2Fproduct%2F1016358002%2Fquestions.djs%3Fformat%3Dembeddedhtml%26scrolltotop%3Dtrue%26expandquestion%3D1894007&user=__USERID__&authsourcetype=__AUTHTYPE__&submissionparams=__BVSUBMISSIONPARAMETERS__&submissionurl=__BVSUBMISSIONURL__
Answers
Answer: 
Yes, this tea maker is stovetop safe.
Posted by
Additional information about CommunityAnswer could not be loaded.
2 weeks, 6 days ago
0
out of
0
found this answer helpful.
Was this answer helpful?
helpful
0
unhelpful
0
http://answers.bedbathandbeyond.com/answers/2009/product/1016358002/answer/1844922/undohelpfulness.djs?format=embeddedhtml&sessionparams=__BVSESSIONPARAMS__&return=__RETURN__&innerreturn=http%3A%2F%2Fanswers.bedbathandbeyond.com%2Fanswers%2F2009%2Fproduct%2F1016358002%2Fquestions.djs%3Fformat%3Dembeddedhtml%26scrolltotop%3Dtrue%26expandquestion%3D1894007%26expandanswer%3D1844922&user=__USERID__&authsourcetype=__AUTHTYPE__&submissionparams=__BVSUBMISSIONPARAMETERS__&submissionurl=__BVSUBMISSIONURL__
Related Searches:
Similar Products: