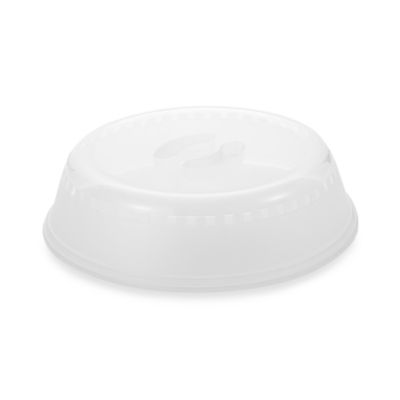 Progressive® Microwave Food Cover
Cover allows you to stack dishes making it possible to heat up more than one dish.
Cover is top rack dishwasher safe, and is food safe and FDA approved.
BPA-Free.
SKU # 11295169
Progressive® Microwave Food Cover
10
11
Progressive Microwave Food Cover: Warps after use
The plastic food cover is not sufficiently thick or strong to withstand frequent usage. It warps and does not provide complete coverage of the food being microwaved.
March 4, 2014
Bad product
The text beneath the microwave cover on the BB&B website stated that the cover was BPA-free. When I received it, there was nothing on the packaging to indicate that this was so. I brought it back to the store and was told if it did not have it on the packaging it was not BPA-free. Bought a different one at BB&B. Love it!!!
June 27, 2013
Nice fit for smaller plates, might need a bigger one
June 23, 2013
Progressive Microwave Food Cover
Works great I never have to clean the Microwave again I had to clean daily, Looks for it at other store's at best price is Bed Bath Beyond Help food to heat evenly too
June 13, 2013
Finally!
Finally got some of these - we've been living in our apartment for about 6 months and I'd had enough. These kinds of things are what you are used to using, but don't think to go out and buy when you move out on your own. Now our microwave will be nice and clean, no more questionable stains everywhere.
March 21, 2013
DISAPPOINTED
Cover was smaller than expected. Barely covers an 11" dish. Difficult to get a good hold on the cover after lifting it from the dish.
February 8, 2013
Love it!
Definitely worth the purchase. I just leave it in my microwave and if it gets dirty, throw it in the dishwasher. It keeps my microwave always clean. And by leaving it in the microwave, my husband doesn't forget to use it.
July 7, 2012
It is used all the time.
We had to finally replace the Progressive Microwave Food Cover that we previously owned as I accidentally flipped it upside down onto a hot stove. Of course it melted some of the top when it landed. We had the old one for about 8 years and replaced it with the same model. It works great. When not in use as a microwave food cover, we use it to cover fruit in a fruit dish. For some reason it fits perfectly, so we are very pleased with it's multiple uses. My wife and I are retired so we use the microwave often, especially with leftovers. Great cover.
November 16, 2011
Related Searches:
Similar Products: