Progressive™ Measuring Flour Sifter
Measuring cup nests for compact storage
Fine mesh screen allows for the dusting of flour or powdered sugar
Flour sifter has a 3-cup capacity
Dishwasher safe
SKU # 14914366
Progressive™ Measuring Flour Sifter
12
16
Great gadget
This sifter is perfect for me. I do a lot of baking but have arthritic hands so the squeeze style doesn't work for me. The handle turns very smoothly and easily and I like the measure cup and lids.
September 13, 2014
A time saver and a hand saver
I am so glad I bought this product. I used to spend so much time and effort with my old hand squeezer model. This one takes a fraction of the time and no sore hand!
August 6, 2014
So easy!
Moved up from one that required squeezing action. This is so much easier to use!
February 4, 2014
Difficult to crank
We specifically looked for a sifter with a crank, because both my husband and I grew up with that style. The crank doesn't turn very easily. You can't just spin it around; you have to man-handle it a little to get it to sift. I think the screen even detached a little. Maybe it's just a flaw with mine....or maybe my flour was too coarse?
December 23, 2013
Universal Flour Sifter
A very good flour sifter with measurements and the filter for dusting. Useful and easy!
December 19, 2013
NOT WELL THOUGHT OUT
At first look this seemed like a great product. Measure and sift at once with one utensil. Not so. The idea is good this product is not. You really can't measure unless you shake or smooth the flour which defeats the purpose of sifting. Although the sifter came with 2 different sizes of sifting screen, neither myself or my husband or daughter who is a professional baker could figure out how to use the second one. Determined to make this product useful, I ended up using 3 additional items to sift and measure with it. Worth a good laugh, but it was a waste of money.
January 20, 2013
does what it says!!
I purchased this for two reasons: 1 - my arthritis is getting the better of me and I have trouble using the ones I have that you grab the handle and pull in and out to get the sifter to work. 2 - I teach my youngest granddaughter how to bake and I thought this would be easier [and less messy] for her to work with. It solves both problems!! She has fun using it and I can use it without my fingers going into shapes I can not control!!
November 16, 2012
Love it!
This is the greatest product for a baker. It is so nice to sift flour and not make a mess all over the counter. I love that I don't have to get multiple bowls and measuring cups dirty, it's all in one! My only complaint is I wish it also came in a bigger version.
September 14, 2012
Related Searches:
Similar Products: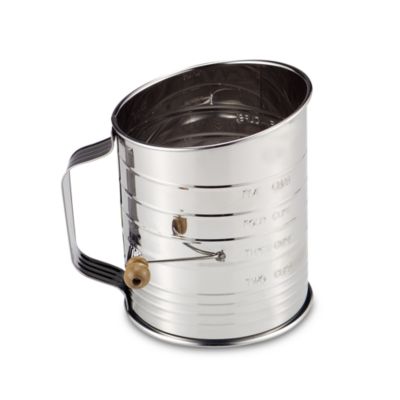 Mrs. Anderson's Hand Crank 5-Cup Flour Sifter
Price:
$9.99
Categories:
Kitchen > Bakeware & Baking Tools > Baking & Decorating Tools
This measuring cup sifter allows you to measure the flour right in the basin keeping messes to a minimum. With a stainless steel screen and basin, sifter turns smoothly for easy sifting.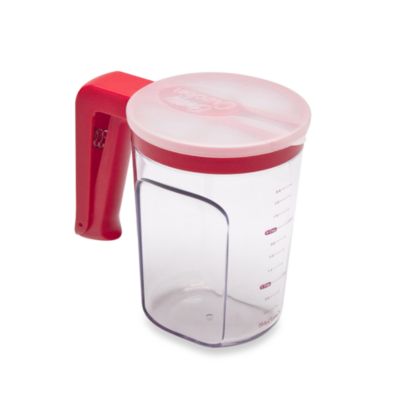 Betty Crocker® Flour Sifter
Price:
$9.99
Brand:
Betty Crocker
Categories:
Holiday & Gifts > Holiday Entertaining > Holiday Baking
Measure and sift flour for all your baking and cooking needs easily and efficiently. This rotary sifter also serves as a measuring cup with measurements printed right on it (3-cup capacity).