Progressive® Collapsible Cupcake and Cake Carrier
The tiered cupcake trays are taller to fit larger gourmet frosted cupcakes, and have finger indents for easier cupcake removal, plus they are removable for perfect presentations.
The cake platform has a patterned slicing guide for more precise slicing.
All parts collapse and nest together for storage, using half the storage space than their original height.
Carrier holds 24 cupcakes or a tall, layered round cake.
Measures 6" H x 15 1/2" in diameter when collapsed.
Hand wash.
SKU # 16668044
Progressive® Collapsible Cupcake and Cake Carrier
37
39
Super handy!
I received this as a Christmas gift in 2013 and it has already proved its worth. My mom used it to bring cupcakes to my bridal shower in May and said she intends to buy one because she loved this one so much. It makes carrying so easy and you don't have to worry about the icing getting messed up. Highly recommended!
April 30, 2014
May be great for cupcakes, but not cakes
I bought this to carry an angel food cake. Angel food cakes are pretty big, but this container was still much too large to carry it. It isn't the height that is the problem, it is the diameter; the cake was going to have way too much room to slide around. I ended up returning it. This is really for cupcakes only.
April 29, 2014
Did not hold up to expectations
The best part about this product is that it is collapsible. What I don't like is that the legs that fold up and down on the top tray are flimsy. The bottom tray does not lock into the bottom of the carrier. If you are holding the carrier and passing out cupcakes, you run the risk of the bottom cupcake tray sliding off and hitting the floor because there is no way to lock it into the base of the unit. My cupcakes also tipped over on their side because the crevasse for the cupcakes was not deep enough. I am disappointed in this and will be returning it to the store.
March 24, 2014
It's cute but not a practical carrier
So, I loved this carrier when I first bought it but after using it for a while along with a few others, I'm disappointed in it's carrying ability. The cupcake holes are so shallow that as soon as you tip it, jar it, etc. even a little bit, cupcakes are officially ruined. It is great for serving cupcakes but not so great for transportation. I bought a 3-tiered one on Amazon that is amazing. Takes up about the same amount of space, with no cupcake disasters.
March 6, 2014
Love Progressive
I have just recently found Progressive and have never found anything better. They are collapsible , dishwasher safe and easily stackable. I don't know what more you can want. This piece had kept pastries fresh for up to 10 days sitting on the counter! Unheard of by me. The produce keepers are also terrific keeping fruits and veggies and we are throwing out far fewer items. That has made them worth the cost.
July 10, 2013
very sturdy
Very sturdy and love that it's collapsible, makes storage a lot easier.
April 16, 2013
Pretty Amazing!!
I should be a sales rep for this item as I've recommended to several people who have purchased it. I bought one for my daughter who's in the military stationed in Japan. She loves to bake cupcakes and take them to the office... When she used this to transport cupcakes to work, all the men were asking her where she got so they could get one for their wives.
January 8, 2013
Exceeded my expectations
I am VERY impressed by how sturdy, well-designed, and well-made this cupcake carrier is - and I do not usually get excited about "unitasker" kitchen implements like this. I brought cupcakes to work today, which involved a hurried 5-minute walk in the rain to catch the train, jostled around on a crowded subway, 5 more minutes walking in the rain, and then through security. The cupcakes made it in perfect condition. First, all the pieces of the carrier fit together perfectly and then DO NOT BUDGE. The two stacking inner trays felt cheap and I thought they would slide around inside, but once the lid was on, they stayed firmly in place and did not move a millimeter. Second, the indents for the cupcakes are deep enough that the cupcakes do not tip - and I definitely was not holding the carrier 100% upright at all times. The container is plenty large that everything will stay nice even if the cupcakes have lots of frosting piled on top (in fact, I thought the amount of space was overkill and the container could have been a little shorter). Finally, the 3 clips that secure the domed lid to the bottom are VERY secure - I do not see how this would possibly come unlatched except due to user error. Obviously, the whole thing is plastic and plastic can crack/break, but if nothing is broken and it is secured properly, it will not open. The only downside: this container is not airtight (there are open gaps in the plastic lid where the handle connects), which means it is a fabulous carrying container, but not good for long-term storage. That said, my cupcakes were in it for about 20 hours and were still very fresh and the frosting creamy, not dried out - the openings are fairly small, I guess. But if you care about maximum freshness, do not use this for long-term storage; use something airtight instead.
December 17, 2012
Related Searches:
Similar Products: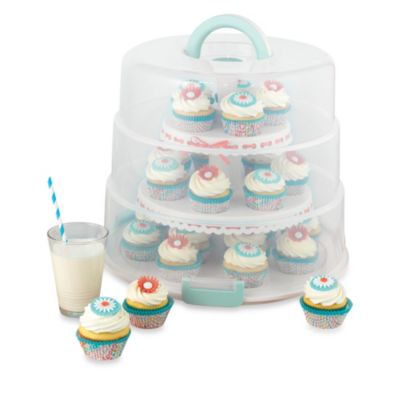 Sweet Creations Collapsible Cupcake & Cake Pop Carrier
Price:
$29.99
Categories:
College > Eat > Cookware & Bakeware
This handy and durable carrier holds up to 40 cakepops or 24 cupcakes securely. Great for easily and safely transporting your delicious desserts.
Also check out:
$34.99

Exclusively Ours

(8 Reviews)

$12.99 - $13.99
(18 Reviews)

$9.99

$7.99

Clearance!

(7 Reviews)
$9.99

Exclusively Ours

(1 Review)

$14.99

Exclusively Ours

(5 Reviews)

$8.99

Exclusively Ours

(1 Review)

$12.99

Exclusively Ours

(6 Reviews)

$9.99

Exclusively Ours

(12 Reviews)

$59.99

$49.99

$50 Bonus Gift card with $300 Calphalon Purchase

Price reflects $10 instant rebate

(19 Reviews)

$9.99

Exclusively Ours

(7 Reviews)

$79.99 - $99.99
(92 Reviews)
$19.99

Clearance!

(4 Reviews)