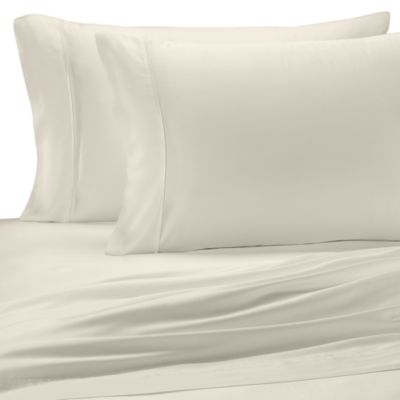 Pure Beech® Sateen Sheet Set
The result is a fabric that is extremely soft, durable and radiant wash after wash with a non-iron finish.
100% Modal™, 300 thread count.
Fitted sheets fit mattresses up to 18" deep.
Pillowcases have a French enclosure, European style flap inside that prevents your pillow from sliding out.
Queen set includes fitted sheet, flat sheet and two standard pillowcases.
King and California King sets include fitted sheet, flat sheet and two king pillowcases.
Additional pillowcases sold separately in pairs.
Machine wash.
Imported.
SKU # 18178532
Pure Beech® Sateen Sheet Set, 100% Modal, 300 Thread Count
Hi, I'm Nancy from Bed, Bath & Beyond and I'm here to talk to you about our exclusive Pure Beech Sateen Sheets.
These three hundred thread count sateen sheets are made from a hundred percent modal. Modal is a fiber produced from the wood of the beech wood tree. It contains no pesticides or toxic substances. The extra smooth fibers have a wonderful silk-like feel.
These sheets are easy to care for and have a non-iron finish. To keep these sheets looking like new we recommend washing in cold water, dry on a low heat, and remove them promptly from your dryer.
The pillow case has the special feature of a French enclosure to help keep your pillow from sliding out. They're available in an assortment of beautiful colors and sizes and the sheet depth varies by size.
Pure Beech Sateen Sheets are available exclusively online and at a Bed, Bath & Beyond store near you.
Pure Beech® Sateen Sheet Set
123
127
AMAZING!! So silky!!
These sheets are fabulous!! Anyone who happens to feel my sheets say that they are the softest they have ever felt!! Almost like pure silk!!! I LOVE them!! I would definitely recommend these to anyone! A few of my family members are actually going out to buy one for themselves now! Another bonus is they don't ever catch on my heels like most sheets do! Definitely my new favorite!! :)
October 22, 2014
Beech sheets are not what they used to be!
I have bought these sheets for several years now and the last set I purchased is just not the same soft silky quality as before. I will be returning them .
October 5, 2014
Not the same as before
I have been buying this sheet set for years and each time I buy a new set, it is different from the last. At first, everything was a nice fit for my queen bed. The pillow case fit snugly, the fitted sheet fit snugly and the flat sheet was the appropriate size. In the last couple years, the pillow case has evolved into an over sized french cuff style, and the sheets have gotten bigger. I have to tuck in more and more of the fitted sheet corners to get a snug fit, but it keeps loosening and I have to pull those corners tight again every couple days so that I'm not sleeping on wrinkles. The flat sheet is so wide that it hangs down below my bedspread. Maybe the queen and king size sets share the same flat sheet. Also, years ago, these sheets were very satin-like, which is what I liked about them. They were cool at night and slippery. Like sleeping on satin. The set I bought just recently are nothing like this. They are hot and have the same feel as any old cotton sheet. I'm constantly fanning the top sheet to cool off, which is all I sleep under, no blanket or comforter all year long. Years ago I would have highly recommended this product, but no longer. This will be the last time I buy this brand.
September 12, 2014
Love these Sheets!
Rating these sheets as 'excellent' because they are. Soft and breathable and absolutely the most comfortable sheets we've ever had.
September 12, 2014
Pure beech satin sheet set
Love them. This is my third set. Won't buy anything else!
September 4, 2014
Soft, great sheets
These sheets are just as I had hoped for, soft and fit well. The bottom fitted sheet has lots of room and I believe will continue to fit well after many washings.Others have shrunk and made it difficult to put on and were a big disappointment. So I'm thrilled with these and will buy another set! Only negative was the delivery method, FedExSmart took much, much longer than should have. There's nothing smart about FedExSmart!
August 11, 2014
Comfy sheets
We love these sheets! They are very comfortable and great for the summer. The bottom sheet fits our thick mattress well.
August 8, 2014
So comfortable and deep enough for a Euro-top!
I bought these sheets in-store about a month ago. The color (gray) was perfect to go with my Kenneth Cole Urban Bloom bedding, even though the color looks a little greenish online. It's more like a slate/stone kind of gray. I walked around and felt the different samples, and I loved how silky smooth these sheets were. After using them for a few weeks, I absolutely love them and I am buying a second set right now online. They breathe like cotton, but they are soft like silk. I tend to get hot at night when I sleep and would often wake up sweating, but not with these sheets! The fitted sheet is fitted all the way around and fits my Euro-Top mattress perfectly with a little give room to spare. The one issue I take with them is that the flat sheet is way too long on the sides. My bed currently just sits on the box spring because I haven't found a headboard I like enough yet to buy a frame, and the sheet is on the floor about an inch on either side. Maybe they gave me a King flat sheet by accident or something. I love the french enclosure on the pillow cases as well. It looks so much more put together when I make my bed. Even with the length of the flat sheet being a little much (since you can't really tell once it's all set up unless you're really looking at the bottom of the bed), I would still highly recommend these sheets to anyone because of the quality.
August 1, 2014
Related Searches:
Similar Products: