Aviva 3-Bottle Chrome Shower Dispenser
Individual chambers lift off the bracket for easy filling.
Includes a smooth, reliable pump and storage hooks for razors and other bathroom necessities.
Easy installation on any surface.
No tools required.
Silicone adhesive and two-way tape included.
Each bottle holds 10 ounces.
Measures 11 1/2" W x 7 1/4" H.
Pumps have a lifetime warranty.
SKU # 12951590
Aviva 3-Bottle Chrome Shower Dispenser
27
27
DOES NOT DISPENSE AS DESCRIBED
Beautiful piece for any bathroom. That is the only upside. I put a moderate amount of soap in dispenser to try it out. Tested it first with water and it dispensed fine. I put Ivory body soap in there and it did nothing. I read other reviews that stated the same thing but I thought I would give it a try. Disappointed as I thought this would really clear the clutter of bottles. On to something different.
September 17, 2014
Nice idea
This dispenser looks sharp and certainly eliminates all the bottles in the shower however, it hasn't been able to dispense conditioner - even after I watered it down. It stuck to the shower wall very well.
September 12, 2014
Pump stopped working after a few days
While this product was easy to install, the pumps stopped working on two out of the three dispensers. I primed them according to the directions, I even watered down the soap and conditioner and even that didn't work. I completely emptied the containers, washed them out completely, ran hot water through them (the water ran through just fine) put back in the watered down conditioner and soap, primed them again, and still no luck. I am returning this to the store. Very disappointed......
August 18, 2014
GREAT DISPENSER I USE SILICONE FOR BATH TO MOUNT ANY THING IN SHOWER AS IT NEVER LETS GO AND CAN BE PEELED OFF TILES EASILY AT ANY TIME AND NO DAMAGE TO WALLS[AN OLD TRADE SECRET]
July 2, 2014
Better than anticipated
After researching dispensers for far too long I purchased this model. Not the most expensive, not the cheapest, wasn't sure what to expect. While it is not "metal", it is made well and looks great (like chrome). To avoid water spots/discoloration mentioned elsewhere I wipe it off post shower; easy peasy. Used extra silicone grout to secure to the shower wall (to eliminate any chance of it falling off the wall or water pooling behind the unit), allowed it to cure properly, and it's a champ! Other reviews mention that thicker products don't dispense properly but after several months of daily use, with viscous products in the cannisters, there hasn't been any issue at all with clogging. Even the provided labels stay on and have held up very well.
May 22, 2014
Excellent solution for bath/shower
I've had dispensers like this in my last 3 homes so I know I like them. This one is easy to fill by popping off the lids and filling each chamber with soap, shampoo, lotion, etc. Better than the ones I've had where you need to lift a cover and pull a bottle out. The chambers are see-thru so you know when to refill. The style and color are modern and complement any decor. If you use the adhesive strips and silicone glue this dispenser will stay up forever. My tub enclosure is textured in areas but I was able to get a good seal and it is solid. I like the 3 chambered dispenser for showers and a 2-chamber one works good by sinks for soap and lotion.
November 6, 2013
Best Dispenser by far!
I highly recommend this dispenser for everybody! It's been up in my bathroom for 5 months now and it hasn't fallen off like this other simple human dispenser I got for Christmas that fell off the next day!!! it went right to the trash (thank god I wasn't the one who paid for it). I love my dispenser although I wish it came in a black finish
August 28, 2013
Great Product
I've had the 3 container unit for about 4 years and I love it! Never had any problem with it and it keeps my bath so organized. I use really thick conditioner and it always pumped out just fine although I might have to pump 6 or 7 times. No big deal. I just sold my house and moved to a new one. I am buying 2 new units to put in the new house. Love this product!
June 21, 2013
Related Searches:
Similar Products: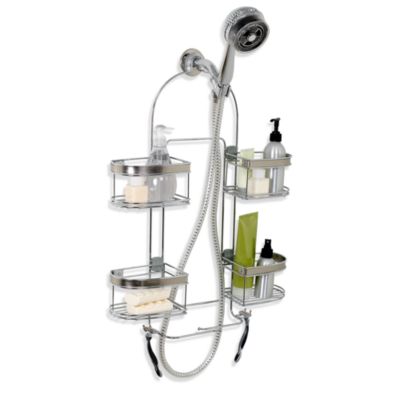 Expandable Shower Caddy
This chrome-plated over-the-shower-head expandable caddy with brushed nickel accents is perfect for handheld shower heads or large bottle storage in any bath. It has four individual baskets that adjust horizontally to best fit your bath.
Also check out:
$8.99

Free Standard Shipping

(19 Reviews)

$29.99

Exclusively Ours

(32 Reviews)
$59.99 - $69.99
(2 Reviews)

$6.99

Exclusively Ours

(14 Reviews)