Range Kleen® Burner Kovers Stainless Steel Burner Covers (Set of 4)
Made using corrosion resistant stainless steel.
Set includes two 8 1/4" diameter covers and two 10 1/2" diameter covers.
Not dishwasher safe.
SKU # 18280060
Range Kleen® Burner Kovers Stainless Steel Burner Covers (Set of 4)
7
10
Cheaply made, but they work.
I guess maybe it doesn't matter how well-made burner covers are, because they're not exactly doing a demanding job. I guess I just wanted something that didn't feel like they'd be permanently ruined if I accidentally dropped one. They're not sturdy or heat resistant, but so far they haven't discolored over the oven vent burner. I'd probably buy again.
October 6, 2014
Wonderful product!
Durable and functional. Allows me to use the range top as counter space.
September 12, 2014
These were perfect. Just what I wanted. Very heavy and nice.
August 4, 2014
Good looking Stove covers
The covers conceal the electric coils in a very attractive manner.
July 30, 2014
I had a previous set and really liked those so I g
Really like these. Kokomo store did not carry them so I ordered online. I would highly recommend these covers.
July 21, 2014
What a difference!
We have a very dated kitchen. We have been slowly replacing the appliances with stainless steel. We purchased these because we needed new covers and because of the great price. We threw away our bent, burnt, cheap flowered burner covers and replaced them with these and wow what a difference! Our kitchen looks so much better and updated.
January 7, 2013
Amazing Transformation!
My husband and I were debating about buying a new cooktop when we renovated our countertops and backsplash, but it still works well. So we decided to just replace the metal covers we had been using with these and they truly make our stove look brand new...several people have asked if we replaced the stove at the same time as the other renovations! I was expecting them to be a bit thicker, but they are still much more solid than what is usually found in burner covers. I would definitely recommend these covers!
March 7, 2012
Related Searches:
Similar Products: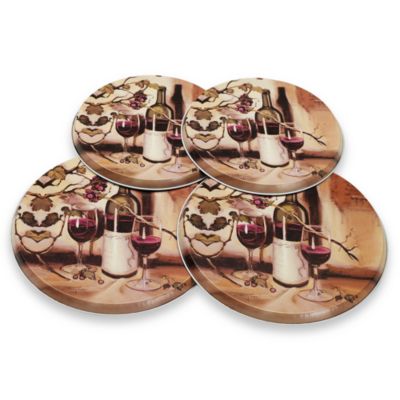 Range Kleen® Decorative Ripe from the Vine Burner Covers (Set of 4)
Price:
$7.99
Brand:
Range Kleen
Decorative Burner Covers help decorate your stove and kitchen area with attractive patterns that will complement other decorative items in the home. Made of light gauge steel to help keep stove-top burners and drip pans clean.
Also check out:
$10.99

Free Standard Shipping

(28 Reviews)

$12.99

Free Standard Shipping

(151 Reviews)