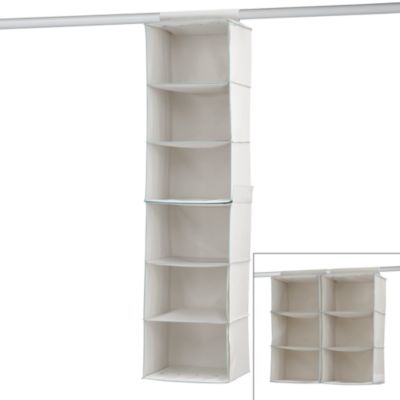 Real Simple® 6-Shelf Sweater Organizer in White
Its six deep shelves hold sweaters, jeans and accessories, while the four stretchy side pockets are perfect for storing belts, scarves, purses or other small items.
The sturdy polyester material stands up to wear and tear, while the Velcro wraps securely around the closet rod for hassle-free hanging.
The organizer even adjusts to your closet needs thanks to side hinges that allow the shelves to convert easily from lengthwise to side-by-side hanging.
Measures 54" H x 14" W x 12" D.
Spot clean.
Real Simple Creative Tips: Hang the organizer in the mudroom and assign one section to each family member.
Stack with folded linens and towels, or hang in the pantry and stock with entertaining supplies, napkins, placemats and plastic dinnerware.
Store backup beauty supplies, tissues and toilet paper, or organize your child's outfits for each day of the week.
SKU # 17038184
Real Simple 6-Shelf Sweater Organizer
Are you met with an avalanche of sweaters every time you open up the closet door? Well, let me help you get organized. I'm Chris, from Real Simple, and this is the sweater organizer, from the Real Simple Solutions line, available exclusively at Bed, Bath & Beyond.
Here's how it works. It attaches to your closet rod with a sturdy Velcro strip, and has six compartments. You can hang it lengthwise, or you can flip the side hinge, and hang it side by side, three by three. The compartments are deep, perfect for sweaters, but just as great for jeans, and tee-shirts, and for all those little things, like scarves, and belts. There are four stretchy side pockets, so you can squeeze it all in. there's also a bin system you can purchase separately to turn these into drawers.
Now, for creative uses, think Around the house. How about putting this in a back hall, or mud room, and assigning every family member their own shelf to stay organized? Or how about turning a hall closet into an instant linen closet? Simply put towels, linens, maybe some extra bath supplies. And there you go.
The Real Simple Solutions line is available exclusively in Bed, Bath & Beyond stores, and at BedBathAndBeyond.com. And for more Real Simple Solutions, check out RealSimple.com.
Real Simple® 6-Shelf Sweater Organizer in White
2
2
closet organizer
After looking everywhere this organizer is the ONLY one I found that splits in half for closets with double rods. It's strong & tough yet pretty and it's a good price. Perfect for me.
August 4, 2014
A great towel and toilet paper Organizer!
I was drawn to this due to the half size option. But be warned, it's sown together at the base; so it's still considered a 6 shelves but wider! My hallway closet is my only area of storage in my tiny house. I've been using this organizer for 2 weeks now to house towels (folded as normal, no need to roll), toilet paper and large sweaters/hoodies that take up too much room among my clothes. I'm very pleased with this purchase.
March 22, 2014
Related Searches:
Similar Products:
Also check out:
$24.99

Exclusively Ours

(5 Reviews)

$14.99

Beyond Value

(36 Reviews)

$14.99

Exclusively Ours

(1 Review)

$29.99

Beyond Value

(13 Reviews)

$19.99

Exclusively Ours

(13 Reviews)

$14.99

Exclusively Ours

(2 Reviews)

$29.99 Each

Beyond Value

Exclusively Ours

(17 Reviews)

$7.99 Each

Exclusively Ours

(3 Reviews)