B. Smith 2-Tier Chip and Dip
Present your homemade dip and favorite chips at your next party with the B. Smith Chip and Dip
Set includes:

One 12-oz. dip bowl
One 12 1/2" W x 3 1/2" H chip bowl
4" H iron stand

Ceramic
Dishwasher and microwave safe
Imported
SKU # 14684298
B. Smith Chip and Dip 3-Piece Serving Set
One sure way to be hip is to have my B. Smith with style collection chip and dip set.

Hello I'm B. Smith and I have a fabulous 2 tier chip and dip set.

Its unique Afrasian design takes its cues from a fusion of African and Asian styles. These influences inspire the white porcelain bowls which are dishwasher and microwave safe.

You can never go wrong having chips and dips at holiday parties, special event or just entertaining a few friends at home. You'll find the 2 tier chip and dip an entertaining serveware workhorse good for any and all occasions.

My two tiered chip and dip from the B. Smith with Style Collection is available online and at a Bed Bath & Beyond Store near you.
B. Smith 2-Tier Chip and Dip
14
20
Not well designed
The idea is great...and I might give the square set a try. However it is designed poorly. The wire set up is not very stable, and the salsa bowl does not sit steadily in the set up. It's quite precarious to have a bowl of salsa over chips, and it may spill in at any minute. Great idea, very cool looking, but not overly functional.
January 11, 2014
best chip and dip ever!
Goes with everything and any color scheme, most used wedding gift we got!
August 20, 2013
Great for big parities
I wish I had two of these! My favorite part about this dish is the dip dish is removable: this make it VERY easy to re-fill and much easier in clean up.
July 17, 2013
Its o-k
It's o-k. The metal pice that holds your dip isn't very well made. Mine has come unglued a few times. Also, the dip bowl is very "sleek" so upon dipping your chip, the dip comes out of the dip bowl landing in your chip bowl. Looks cool but this bowl isn't the best out there.
April 4, 2013
My Favorite B Smith piece!
I have many of the B Smith serving sets, and this chip/dip set is used the most by far. I get compliments on it every time I take it to a work party, etc. The bottom piece is large enough to hold a lot of chips so you are not having to constantly re-fill it when hosting a party. I stored it in the box to keep it 'safe' and was so upset when the worn box gave out last week when I was pulling it out of the cabinet for a holiday party, breaking the large bowl. Needless to say, I am heading to BB & B to buy a replacement set ASAP!
December 23, 2012
Great Platter
I bought this platter with a "chip n dip" idea in mind. But the larger dish can easily be used alone and it looks elegant as well. It holds foods like pasta beautifully and it's the perfect size for everyday use and for get-togethers.
December 1, 2012
Awesome Serving Tray
This server is a great piece to bring out when company is coming over. I've used it many times for salsa and chips, chips and dip, and more. I was concerned at first that the little clip for the top dish wouldn't fit snugly or that the top dish would be loose, but that hasn't seemed to be a problem. It just takes a little patience to figure out where to place the bracket and the top dish. Overall, this dish has been great and there have been no food casualties yet!
September 12, 2012
B. Smith Chip and Dip 3-Piece Serving Set
I really like the size and shape of both bowls. The only problem I have is that the metal bar attachment touches the salsa/dip if you fill the small bowl.
January 5, 2012
Related Searches:
Similar Products:
Arthur Court Designs Grape 2-Tier Chip & Dip
Price:
$150.00
Brand:
Arthur Court Designs
Categories:
Dining > Serveware > Appetizer Servers
The grape vine design of this chip 'n dip celebrates the beauty of nature. Like a vineyard, serveware is a thing of beauty.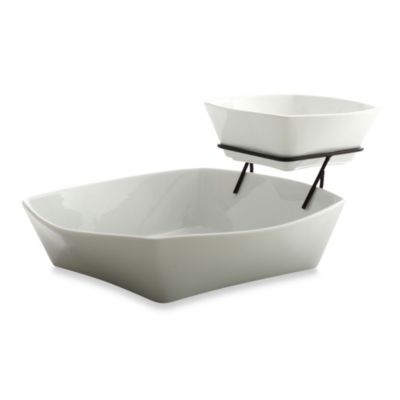 B. Smith Serveware Square 2-Tier Chip and Dip Set
Price:
$29.99
Brand:
B. Smith
With the B. Smith Serveware Square 2-Tier Chip and Dip Set, you can present your guest's favorite snack in a sleek and stylish way. The durable porcelain set includes a 7" square dip bowl held in place by an iron stand, with a 12" chip bowl below it.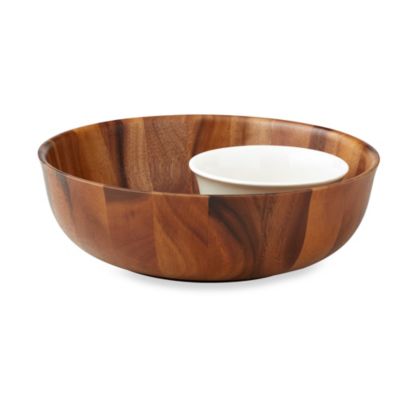 B. Smith 13-Inch Tulip Wood Chip and Dip Bowl
Price:
$39.99
Brand:
B. Smith
Categories:
Dining > Featured Shops > Farm to Table
Perfect for any occasion, the B. Smith Tulip Wood Chip and Dip Bowl brings a touch of nature into your event with its rich, wooden finish and subtle tulip shape. The small bowl keeps the dip conveniently located, keeping mess at a minimum.
Also check out:
$39.99

Exclusively Ours

(26 Reviews)

$39.99

Exclusively Ours

(9 Reviews)

$14.99

Exclusively Ours

(8 Reviews)

$39.99

Exclusively Ours

(5 Reviews)

$39.99

Exclusively Ours

(2 Reviews)

$24.99

Exclusively Ours

(4 Reviews)

$19.99

Exclusively Ours

(8 Reviews)

$19.99

Exclusively Ours

(2 Reviews)

$34.99

Exclusively Ours

(2 Reviews)

$19.99

Exclusively Ours

(4 Reviews)

$6.99

Exclusively Ours

(4 Reviews)

$19.99

Exclusively Ours

(5 Reviews)
$1.99

Beyond Value

(3 Reviews)

4 Piece Set $14.99
(16 Reviews)

$9.99 - $19.99
(5 Reviews)

$9.99

Beyond Value

(30 Reviews)

$7.99 - $11.99
(16 Reviews)

$12.99 - $19.99
(13 Reviews)