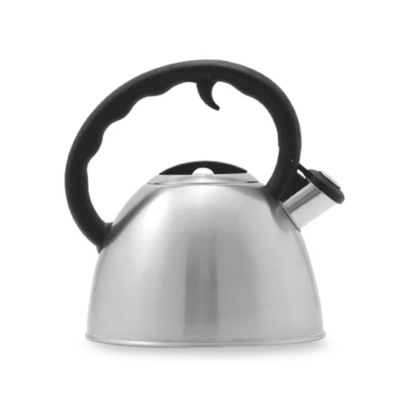 Remedy® Metro 1.5-Quart Brushed Stainless Steel Tea Kettle
Handle is comfortable to hold and secure to carry.
A finger toggle that opens and closes the spout for safe, easy use.
Its loud whistle signals when water is at a boil.
Has a 1.5-quart capacity.
Hand wash.
SKU # 17073389
Remedy® Metro 1.5-Quart Brushed Stainless Steel Tea Kettle
30
33
Amazing.
I love it. Easy to clean and heats the water very fast.
July 15, 2014
Buyer Beware
This tea kettle is poorly constructed of thin metal and a poorly designed handle and trigger that gets super hot. When pouring hot water, it is recommended that one use a hot pan holder to pull on the trigger to lift the pour lid. Because of the poor design, I do not have a hot pan holder that fits between the top of the tea kettle and the trigger. I suggest you pass on this item and seek one that truly works without the risk of burning the user.
February 9, 2014
Small is Beautiful
When there are just two of you, a 1.5 quart teapot is more than you need and a 2 quart one (or larger) is just plain silly. So we got this cute little thing, and it works just fine. We empty it after each use to help prevent rust, and so far (at least a year, I think) we haven't seen any. My wife makes a cup of tea now and then.... I often heat a mug of water and use it to make "pourover" coffee. We have never really needed a whistling teapot that held even a quart. And this brushed stainless pot looks good on our flat-top stove, which is nice.
October 5, 2013
what a disappointment
This teapot is dangerous. The lift for the spout cover doesn't work and you have to juggle the pot while you either lift it with your finger or find something to lift it with so you don't get burned. I'm going to have to buy another pot. I guess you get what you pay for but I am disappointed since it is exactly the right size.
April 13, 2013
DANGEROUS
They say you get what you pay for. Well, in this case even though this teapot was cheap, I didn't get what I paid for. I bought it because it is small. I liked the size. First, the handle came apart a few weeks after I purchased it. My husband fixed it, better than it was originally made. BUT... then a while later when I was washing it, I SLICED MY HAND OPEN on the inner lip of the cover. This thing is KNIFE SHARP. DON'T buy one. If you already own one, be careful! I'm happy to say BB&B gladly refunded my money and I bought a better teapot.
January 22, 2013
Worst kettle ever
When I bought the first one I couldn't open the spout because it was broken. I returned that and got another exactly the same. I tested the spout and it worked. When I used it ,once the water boiled It seems I can't open the spout. I can't return this now because I don't have the receipt or box. I suggest you by pass this one.
August 5, 2012
Garbage!
The trigger function worked perfectly before I used the kettle for its intended purpose. I decided to give it a go and make myself some tea. My two major complaints: 1) the whistle was extremely weak. I didn't hear it at all from the next room, and 2) The trigger failed to open the spout when the kettle was hot! It still pulled back, but the spout did not open at all. Also, the handle was loose and wiggly - it felt very unsafe to use. I had to use a spoon to open the spout so I could pour the water out. So much for convenience - I returned it!
July 26, 2012
good kettle for the price
I was looking for a smaller, less expensive kettle. For the price, this is exactly what you get. I'm happy with my purchase.
January 26, 2012
Ask your questions. Get answers from the community.
Ask your questions. Share your answers.
Posted by
Brenda
Johnstown, PA
1 week, 3 days ago
0
out of
0
found this question helpful.
Was this answer helpful?
helpful
0
unhelpful
0
http://answers.bedbathandbeyond.com/answers/2009/product/1017073389/question/1905088/undohelpfulness.djs?format=embeddedhtml&sessionparams=__BVSESSIONPARAMS__&return=__RETURN__&innerreturn=http%3A%2F%2Fanswers.bedbathandbeyond.com%2Fanswers%2F2009%2Fproduct%2F1017073389%2Fquestions.djs%3Fformat%3Dembeddedhtml%26scrolltotop%3Dtrue%26expandquestion%3D1905088&user=__USERID__&authsourcetype=__AUTHTYPE__&submissionparams=__BVSUBMISSIONPARAMETERS__&submissionurl=__BVSUBMISSIONURL__
Answers
Answer: 
This kettle will whistle once water is at boiling point.
Posted by
Additional information about CommunityAnswer could not be loaded.
1 week, 3 days ago
1
out of
1
found this answer helpful.
Was this answer helpful?
helpful
1
unhelpful
0
http://answers.bedbathandbeyond.com/answers/2009/product/1017073389/answer/1855002/undohelpfulness.djs?format=embeddedhtml&sessionparams=__BVSESSIONPARAMS__&return=__RETURN__&innerreturn=http%3A%2F%2Fanswers.bedbathandbeyond.com%2Fanswers%2F2009%2Fproduct%2F1017073389%2Fquestions.djs%3Fformat%3Dembeddedhtml%26scrolltotop%3Dtrue%26expandquestion%3D1905088%26expandanswer%3D1855002&user=__USERID__&authsourcetype=__AUTHTYPE__&submissionparams=__BVSUBMISSIONPARAMETERS__&submissionurl=__BVSUBMISSIONURL__
Related Searches:
Similar Products:
Also check out:
$84.99 - $119.99

Clearance!

$159.99

Exclusively Ours

(2 Reviews)