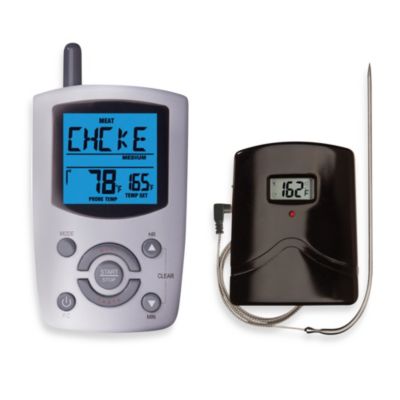 Programmable Remote Digital Meat Cooking Thermometer
It monitors the internal temperature of cooking meats from up to 100 feet away, has programs for six varieties of meat and a 24 hour count up or down timer
The transmitter has a built-in stand, so you can easily set it on the countertop
Wireless remote monitor has LCD and beeps and flashes when meat is ready
Probe wire is heat-resistant and fits through oven door without affecting insulation
Can be used with an oven or a grill
This unit is equipped with an auto off feature which saves battery life
Receiver has a belt clip
Uses four AAA batteries (included)
SKU # 12123876
Programmable Remote Digital Meat Cooking Thermometer
This is the Professional Remote Cooking Thermometer…from Bed Bath & Beyond.
The thermometer can be programmed for six different kinds of meat…making it the perfect addition for any kitchen.
Once programmed to a temperature of your choice…you can check on the internal temperature of your dish up to 100 feet away using the remote transmitter.
Eliminate doneness guesswork…this automatic thermometer lets you know when your dish is ready by beeping and flashing.The thermometer also features a convenient timer..great for monitoring the side dishes that will accompany your meal.
The Professional Remote Cooking Thermometer…available online or at a Bed Bath & Beyond near you.
.
Programmable Remote Digital Meat Cooking Thermometer
20
20
Poor quality product. Horrible probe
Of all the things I put on my registry, I was most excited about this product. Funny enough it was the first thing we received. The quality of the product was less than satisfying, but as long as it did it's job, I would be ok with it. After realizing that it turns off automatically while under a certain temp for a certain period of time, I was able to anticipate the little quirks of this device. THAT I could live with. What I CAN'T live with is the fact that the sensor and probe now read "HHH" all the time, implying that the product is now useless. I'm not sure what the problem is, but either the probe is faulty or the sending unit is faulty. Either way it lasted about a month. Very unsatisfied.
July 14, 2014
worthless
Worked once, then helped me ruin a tenderloin. $90 dog food.
March 25, 2014
Disappointed in O Town
I bought this as a gift for my husband for Christmas. He is a huge BBQ and cooking enthusiast. Needless to say we were very disappointed in this product. We had the issue of the device not staying powered on. it would shut off about every thirty minutes or so. We tried changing out the batteries but this did not solve the problem. After reading the owners manual a little more we found that this is a security setting set up so that it doesn't drain the batteries. We were cooking a large roast that needed to cook for a few hours. In the end we ended up using the good old fashioned meat thermometer. Don't waste your money on this hunk of junk
January 4, 2014
Great Customer Support
After much satisfactory use, the digital display on the transmittor went blank. The receiver unit was still displaying the correct temperature. I sent an email to Maverick asking how I could trouble-shoot the problem, and they replied to send the unit back to them. Within about two weeks, they sent me a brand new transmitting unit, which continues to work perfectly. I even have confirmed the temperature reading with an instant-read inserted thermometer, and it has always been accurate. I am buying more for gifts.
December 12, 2013
Never worked
We got this from our wedding registry. Just tried to use it for the first time for the thanksgiving turkey. We put the probe in the center of the turkey breast and placed the turkey in the oven, with the wire coming out the side of the oven door. It read the correct temperature for about 10 seconds (40 degrees F in the cold turkey), then the temperature shot up to the oven temperature (325 degrees F). The probe was placed correctly and did not go all the way through the turkey. Reinserting the probe resulted in more erroneous readings, as well as the HHH error code. From looking at the other reviews it is obvious this is not an isolated defective unit, they are all bad. The manufacturer, Maverick, needs to step up it's quality control. I would say this is a cheap piece of junk made in China, except at a cost close to $40 it is far from cheap.
November 28, 2013
Broke almost immedietly
Worked great for a few uses and then just stopped working... would go to Cecilius out of the blue and give readings that were all over the place.. Waste of money
November 27, 2013
Don't trust this thermometer...+/- 30 degrees
I bought this to aid in smoking a turkey and a duck, well to say the least I am extremely disappointed and frankly ticked off it wasted my time. The temperature was all over the place rising 20 degrees in 30 seconds and then dropping 20 degrees over the 5 hours. I then tested this against a quality calibrated Fluke temp probe, boiling water read 212 on my fluke and this thermometer was reading as high at 240 degrees. Returning it tomorrow.
November 17, 2013
Inconsistent and poorly made
Bought this thermometer and used it twice before the probe starting reading inconsistent temperatures. The wire from the probe pulled out a couple of inches very easily and this is causing a lot of inconsistent temps. When smoking or slow cooking any meat it is very crucial to have proper temps displayed. I recommend going with a different brand all together. I am not pleased with myself for not reading the reviews prior to purchasing. Very disappointed overall.
November 16, 2013
Related Searches:
Similar Products: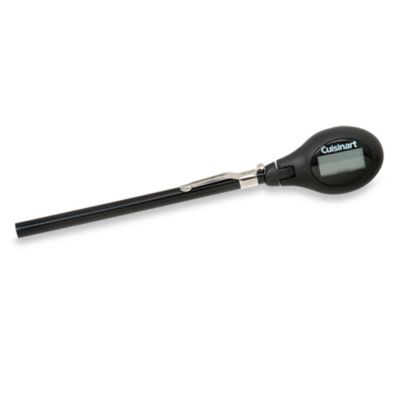 Cuisinart® Digital Universal Grill Thermometer
Price:
$19.99
Categories:
Seasonal > Grills & Outdoor Cooking > Grill Tools & Accessories
The Digital Universal Grill Thermometer from Cuisinart is a simple and effective way to check on the readiness of your grilled meats. This thermometer has a digital LCD display that reads internal meat temperatures in 10 seconds or less.
OXO Good Grips® Digital Instant Read Thermometer
Price:
$19.99
Brand:
OXO
Categories:
Holiday & Gifts > Holiday Entertaining > Holiday Cooking
With its large, easy-to read numbers and a special button for Farenheit/Celsius conversions, this instant digital meat thermometer is an essential tool for any household cook.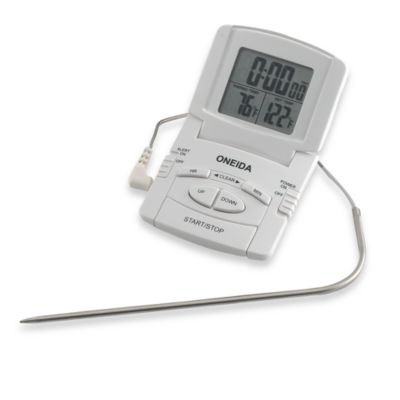 Oneida Digital Thermometer with Timer
Price:
$19.99
Categories:
Holiday & Gifts > Thanksgiving > Turkey 101
With its commercial quality stainless steel probe, this digital thermometer allows you to read the temperature of the meat you are cooking even with the oven door closed.
Also check out:
$3.99 Each

Beyond Value

(8 Reviews)

$19.99 Each

Beyond Value

Exclusively Ours

(31 Reviews)

$14.99

Beyond Value

(40 Reviews)

$7.99 Each

Exclusively Ours

(4 Reviews)

Twin $29.99 - Cal King $69.99

Exclusively Ours

(36 Reviews)
$8.99 - $23.99

Clearance!

(2 Reviews)