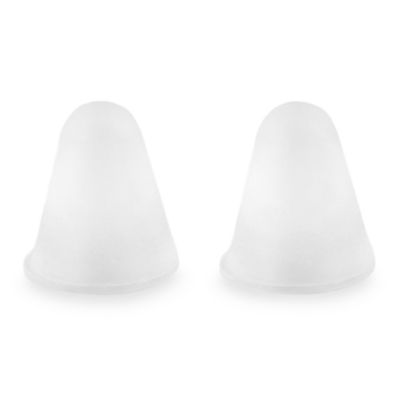 Add-On's Bumper Height Extenders for Roomba® or Scooba (Set of 2)
The Unicorn vertical bumper extender is made of a blend of flexible polymers that allow your robot's bumper to detect a low height situation which in turn provides you with a more reliable cleaning experience.
It's simple to install with peel-and-stick adhesive and is crafted with optically clear resin to not obstruct any communication to the robot.
Model # 6020-1001.
SKU # 17452517
Add-On's Bumper Height Extenders for Roomba® or Scooba (Set of 2)
3
3
Free Ride!
Does not work well with Roomba 780. The IR sensor is not completely flat on top and therefore only has a small outer ring for the extender to adhere too. After a few bumps into lower objects, I found the roomba giving the extender a piggy back ride around the room. I am going to try to use Gorilla or Super glue in hopes that it will stay put.
April 28, 2014
Great product so far!
I had my roomba all scratched from my couch and tables it used to go under and it scratches my roomba and I had to put pillow around so it wont go under the sofa and tables. I wish I would of ordered this earlier. Its great I had to leave it for 24 hours and I left it for a bit of more time thanks to someone that put a review that helped me but it is worth it no more Roomba getting scratched and no more pillows.It really helps and sticks great on so far.
April 5, 2012
Bumper Height Extenders improve Roomba
Unfortunately our new Roomba squeezed under a couch, scratched the top face plate and got stuck. The new Bumper Height Extender seems to be just tall enough to keep the Roomba from going under the couch. Separately, I purchased a new colored face plate to replace the scratched up face plate from jagged metal under the old couch. I was a little worried that the Bumper Height Extender may pop off but so far no problem. I let the included tape cure (dry) longer than the recommended 24 hours just to make sure it was on securely. It's very easy to install and a brilliant (but simple) solution to keep Roomba from under tight furniture. Of course because it extends up only about an inch Roomba still goes under taller furniture to clean.
June 23, 2011
Related Searches:
Similar Products:
Also check out:
$14.99

$9.99

Clearance!

(14 Reviews)

$10.99

Free Standard Shipping

Exclusively Ours

(5 Reviews)

$9.99 Each

Exclusively Ours

(6 Reviews)

Twin $24.99 - King $44.99
(18 Reviews)

$14.99 Each

Exclusively Ours

(1 Review)
$19.99

Excluded from Pack and Hold

Twin $59.99 - Queen $79.99
(7 Reviews)

$14.99

Clearance!

(3 Reviews)