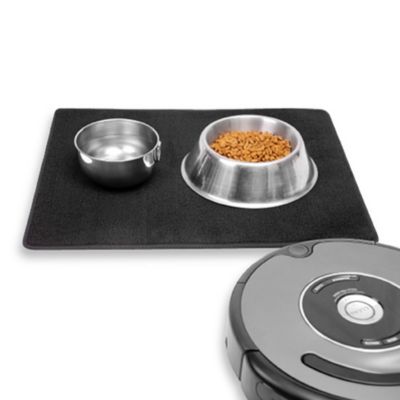 Add-On's KeepOff Mat for Roomba® or Scooba®
Attractive mat looks great in any room, and the specially designed soft black infrared absorbing mats are battery-free
There's no switches to turn on so it's always ready to use
Model 2060-1001
SKU # 17452584
Add-On's KeepOff Mat for Roomba® or Scooba®
6
6
Not an iRobot product; very poor quality
I ordered two of these and was very disappointed to see that it looks nothing like the photo on this page. It is not made by iRobot for the Roomba as you might be led to believe by the use of trademarks here. This is a very cheaply-made product. The corners are square (not rounded) and the edges are not braided or finished as shown. It's just a cheap short pile material that was cut crookedly by someone with scissors and then glued onto a rubber backing. It reminds me of a cheap mat that you might put outside your camper. Definitely not something we want visible in our home. Whether it works or not is irrelevant if it's this ugly. There is no evidence this product has any feature designed to keep a Roomba away, other than its black color. And if that's all it is, we can readily find something that is much more presentable. Due to the false advertising, I'll be returning these mats unused.
May 3, 2014
Worth the money
I wasnt' sure if the keep-off mat would be worth the money but when I bought my new Roomba to replace 2 worn out older models, I didn't want to haveto mess with the slopped over dog water that would sometimes make a mess in the dust bin (if the old Roomba's hit the bowl just right water would slosh on the floor and then Roomba would try to sweep it up, making a clay-like sludge that i had to clean up). I LOVE the mat. It is just large enough for the food and water bowls (they are big bowls ) and Roomba has not gone near them. He goes right up to the edge and then just drives around the mat. Not essential but a nice extra.
April 29, 2013
Perfect solution
I find this product does exactly what it says. I have been forever cleaning up spilled water dishes and this mat made my life easier (and my house cleaner). Not sure about the other comments but Roomba really hates this mat and stays away from it. I have one in my family room as well under a plant.
November 1, 2011
Unnessessary
As long as you have a newer Roomba with cliff sensors, any dark brown or black rug will work. I already have a brown rug Roomba 560 won't clean, it treats it like the top of the stairs, stops abruptly and turns around.
December 12, 2010
Great product
Not sure about the previous review. I tried using a black rug and my Roomba ran right over it. Didn't even pause. Bought this product and it works great. What more can I say.
November 19, 2010
Better option
The Roomba's Achilles heel is black, put any black carpet down and it's edge sensors will assume its a drop off and back away. I have found this with my Roomba, we have some carpet with black lines and squares and our Roomba "Spot" will not clean it.
November 5, 2010
Related Searches:
Similar Products:
Also check out:
$19.99

Free Standard Shipping

(6 Reviews)

$39.99

Free Standard Shipping

(1 Review)

$19.99

Free Standard Shipping

$39.99

Free Standard Shipping

(1 Review)

$89.99

Free Standard Shipping

(4 Reviews)

$19.99

Free Standard Shipping

(1 Review)

$19.99

Free Standard Shipping
$10.99

Free Standard Shipping

(8 Reviews)

$13.99 - $41.99




$11.99 - $34.99

Clearance!

Exclusively Ours

(40 Reviews)

$24.99

Exclusively Ours

(2 Reviews)

$8.99 Each

Beyond Value

(7 Reviews)

$10.99

Free Standard Shipping

(93 Reviews)

$12.99

Free Standard Shipping

(28 Reviews)

$9.99

$4.99

Clearance!

(2 Reviews)
$119.99 - $199.99
(6 Reviews)

$129.99 - $169.99
(1 Review)