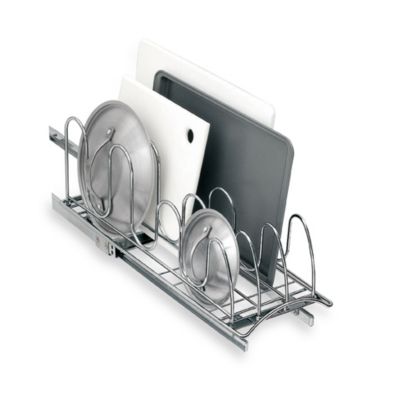 Lynk® Roll-Out Under-Cabinet Lid Holder in 7-Inch
The industrial-grade ball bearing glides ensure smooth gliding even under the heaviest loads
Its beautiful steel construction gives it strength and durability
Its unique Easy Mount® design requires no measuring and installs in minutes
Measures 7 1/4" W x 21" D x 9" H
Easy to assemble
Hardware included
SKU # 17387332
Lynk® Roll-Out Under-Cabinet Lid Holder in 7-Inch
20
22
Great SpaceSaver
Great Quality, easy installation and perfect for organizing all those lids in one easy to access location.
March 12, 2014
Good product
I bought this product and installed it in about 20 minutes. It is thoughtfully designed and it works just fine. A simple addition to your cabinetry that will help out a little.
March 3, 2014
Why did I wait so long to buy this?
We have several very large lids and when we moved into our new house, our "box" would not longer work in the cabinet. I bit the bullet and bought this online. Why did I wait so long? It stores the lids in a much smaller space than my box and I even have my cookie racks in it as well. Slides really easy, almost too easy. When we move, I am taking it with me!
December 29, 2013
Awesome product!
I recently moved into a new home and installed this product into one of my new cabinets. It is great install was simple and it works great! I would definitely recommend!
July 31, 2013
Great Solution to a annoying problem
I love my roll out under cabinet lid holder. My husband just installed it in the cabinet under my cooktop where I store all my pots, pans and lids. I have never had an efficient way of storing the lids to my pots and pans until now. Love how this lid holder rolls out of the cabinet making it very easy to access what I am looking for. It's great. No more lids falling out or digging into the cabinet for what i need. I'm happy!!
June 26, 2013
cabinet organizer
This product is exactly what it says it is. Works very well. My only problem with it is that when installed you loose some clearance height so a bunch of things won't fit standing up. Otherwise it's great.
May 23, 2013
Good product
This is really well made. It was a little confusing to put it together, but once it was done, it worked fine. It requires a little more room than I thought, but I made it work.
April 24, 2013
Very impressed
This is not too heavy for the cabinet but, heavy enough to hold lids. I REALLY like that I can get the lids an a smaller, more organized space.
April 4, 2013
Related Searches:
Similar Products: