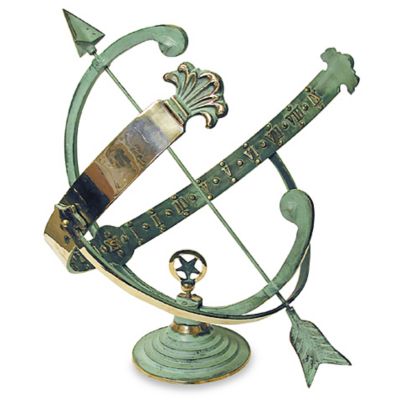 Rome Industries® Armillary Sundial with Verdigris Highlights in Solid Brass
Explore it:
Adjustable for all latitudes and looks at home in both casual and formal outdoor spaces.
Measures: 18" overall height; 6.50" base diameter; 18" time band; 23" arrow length.
Designed to mount on Rome's cast iron pedestal bases #B18, #B19, #B24, #B26 (sold separately).
Imported.
SKU # 18156202
Related Searches:
Similar Products:
Also check out:
$149.99

$74.99

Clearance!

(1 Review)

$19.99

Special Purchases while supplies last

(2 Reviews)

$24.99 Each

Free Standard Shipping

(1 Review)

$49.99 Each

$24.99 Each

Clearance!
$38.99 - $53.99

Clearance!

(2 Reviews)