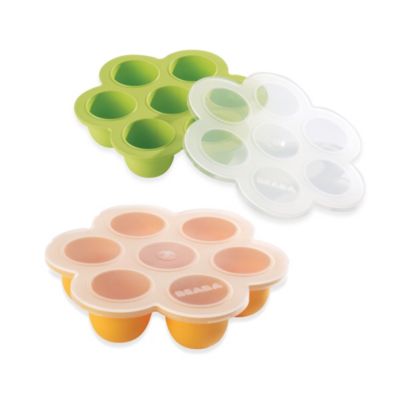 BEABA Multiportion Freezer Tray - Blue
Its airtight plastic lid preserves their fresh flavors, textures and nutrients
At dinnertime, the individual frozen portions slip out, ready for reheating in the BEABA® Babycook or a microwave oven
Measures 8 1/4" in diameter each
Microwave and dishwasher safe
BEABA® Multiportion Freezer Tray
10
10
easy to store food
What I love the most about this product is that it is made of soft silicone which makes it easy to take out portion sized food servings from the freezer when I need it. Can go in dishwasher or microwave too.
February 22, 2011
Great product!
I love this tray! It's easy to clean, by hand or in the dishwasher. But the best part is how easy it is to pop only one section out when frozen.
February 6, 2013
Great Product for Food Prep
I have a Baby Bullet and wanted another tray to freeze my baby's food. I am very happy with my purchase. It actually releases food easier then the tray included with my baby bullet. I am very happy that it has a lid to help keep out freezer burn and odors. I don't usually store the food in this container for long as I am always making more food and need the tray. I just store the frozen food in freezer bags and defrost when I need a serving. Have not used a ice cube tray yet to freeze baby food, but don't think it would be any easier then using this product.
January 6, 2013
MUST HAVE!
This is one of my favorite baby feeding products. I have been making my baby's food for over a month now and freezing portions in the Beaba tray. I couldn't bring myself to spend big bucks on the Beaba baby food maker because the Kidco one works just fine. The beaba tray top snaps on and off easily but stays put. The material and shape makes removing frozen baby food a breeze. It's super easy to clean between uses. The colors make it easy to find in my freezer. I have started putting the frozen bowls of food in a ziplock freezer bag so I can use the tray to make even more varieties of baby food. I recommend getting two- one for fruit and one for veggies. I also love that I don't have to worry with loosing parts(tops and bottoms) like I do with the Green Sprouts product.
February 2, 2011
So much easier than ice cube trays!
I bought this product a few weeks ago and love it. I have been making and storaging my sons food since he was 4 months old and have always used the ice cube trays to store food. These are so much easier to pop out. They also hold more food than regular ice cube trays. I am going back to buy more.
December 25, 2010
Outstanding Product
After freezing my homemade baby food in ice trays and transferring to those "vacuum seal" bags for my first born, I was more than ready for a better solution for baby #2. I have the Baeba cooker, and it works great (for small quantities), and thought I would try the silicone freezer trays by the same company. I am soooo glad I did! These trays work GREAT. As one of the reviewers noted, the frozen food can be difficult to release, but not after running under water (upside down, of course) for just a few seconds. Also, I have not noted any peculiar smell from these trays (or the food that's been frozen in them). I was initially worried that the larger compartments (2 oz versus 1 oz) would be too much for a feeding (and wasteful), but my little "tank" is plowing through TWO portions at a sitting three times a day (he's 5 months old). All kids are different - my first born did not eat THIS much - but don't be afraid to buy these thinking they'll be too big. When you're heating up several smaller cubes at a time, you'll wish you'd considered these larger ones! And they're SO easy to travel with - we took a tray filled with a variety of foods on our Labor Day weekend trip and the food stayed solid for the drive (on ice in a cooler). Soooo easy - no more stupid vacuum bags!!! I have six of these trays - plenty to offer a variety of food to my baby! Good luck and happy shopping!
September 15, 2010
Too pricey
I was given a Beaba freezer tray as a gift. I used it often when making homemade baby food. It was easy to pop out the food cubes and the portion sizes were perfect. However, I noticed that the food frozen in the tray had a plastic taste and since then I have stopped using it. There are definitely cheaper options out there.
August 20, 2010
Enjoying them
I have enjoyed using these freezer trays for my homemade baby food. I especially like that they have a lid so as to keep them fresh in the freezer. It is true that they can be difficult to remove from the mold. However, if you run warm water on the underside for a few seconds, they pop out much easier without melting the frozen food. If you are freezing your own food, I would highly recommend them!
April 11, 2010
Related Searches:
Similar Products:
Also check out:
$21.99

Baby Registry Favorite

(6 Reviews)

$59.99 - $79.99

Excluded from Pack and Hold

Beyond Value

(163 Reviews)