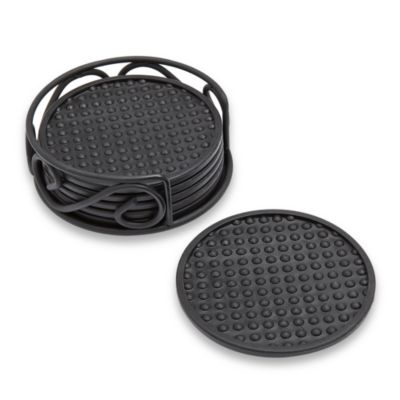 Rubber Coasters with Scroll Holder
The coasters feature a knobby texture to "grip" the bottom of the glass.
Set of six with one holder.
SKU # 11921817
Rubber Coasters with Scroll Holder
10
11
Coaster envy
I admired these coasters at my daughter's home in a distant state and was thrilled when I found them at my local BB&B. purchasing another set for the recently renovated man cave. Love, love, love these coasters!
May 2, 2014
bridal registry
I placed these on my bridal registry, and I love them, you can wash them by hand or on the top rack of the dishwasher. Seven years later and now with a 5 year old they still look like new. I recommend them to everyone and have bought them as gifts many times. I use one at work and many co-workers ask where I got it from. I'm glad to see even 7 years later Bed Bath & Beyond still sells this great product!
October 18, 2013
Great for what we needed!
I've used these coasters in the kitchen to hold small scrub brushes at the sink because they have a slight rim and water drips stay in them. Easy to clean with the scrub brush, too. Our best use is as little "feet" under a chiminea on our deck. The chiminea sits in a metal holder, and these are great for protecting the deck from scratches and rust. They won't break or rust, either. Oh, and we've actually used them as coasters, too!
July 26, 2013
Fantastic!
These coasters are the best! Glasses do not stick and they keep the tables dry. Very durable.
July 17, 2013
Leaves residue on coffee tables
These coasters are pointless. Everytime we use them we end up with an oily residue underneath the coaster. Why use a coaster then?
December 9, 2012
Better than expected
The coasters work as coasters should but when I showed them to my wife she loved the decorative holder. I'm very happy with this product.
November 1, 2012
Great product!
I am very happy with my purchase. Great for coffee or cold drinks and looks good with all surfaces. Would buy again.
August 27, 2012
Perfect
Coasters are perfect for a glass table. Good quality. Look great anywhere.
November 30, 2011
Related Searches:
Similar Products: