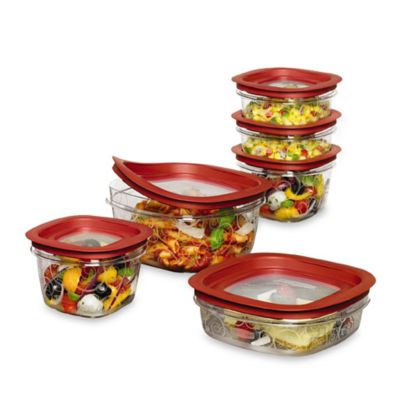 Rubbermaid® Premier 12-Piece Food Container Set
(2) 1½-cup containers with lids (5.06" L x 5.06" W x 2.25" H)
(2) 2-cup containers with lids (5.06" L x 5.06" W x 3.38" H)
(1) 3-cup container with lid (7.13" L x 7.13" W x 2.25" H)
(1) 5-cup container with lid (7.13" L x 7.13" W x 3.56" H)
Graduated sized lids and containers nest inside each other to save space
Microwave-, freezer-, and dishwasher-safe
Shatterproof Tritan™ bases resist stains and odors
Bases and lids are BPA-free
1-year manufacturer's warranty
SKU # 15623861
Rubbermaid® Premier 12-Piece Food Container Set
531
562
Best food storage containersa
These are the best food storage containers I ever bought, They close and seal perfectly. I would recommend them to everyone.
November 3, 2014
The best thing made in plastic. They are great to take to work/ school for lunch, storage and microwaveable. What more can you ask for. They also stack well in the cupboard taking less space. Clean up very easy. Non stainable. I got the 12 piece. I will order the 34 piece Like I said it's the thing in Plastic. Love the lids.
October 21, 2014
Loved these!
Very nice and durable! Just wish it came with more of the large bowls.
July 21, 2014
Great Containers
I love Rubbermaid containers because of the tight seal and how well they hold up over time. I planned to clean out my drawer full of old left-overs containers of odd sizes, missing lids, warped sides, etc and replace w/all Rubbermaid ones. This is a great set but only has small and medium sizes so I still need to purchase larger ones. I'm sure this is my fault for not reading the sizes carefully enough but these will work well for smaller items. I really wouldn't purchase any other brand. I've tried them all and Rubbermaid is the best.
July 15, 2014
Great product
These are great. I got rid of all my old mismatched plastic containers and decided on these. Since I switched - these are my second set I've bought. I use these for lunches daily. They are probably one of the most used items in my kitchen. They have put up well with all the microwaving, being in the fridge and knocking around in lunch bags. I wish they were a little easier to locate as Rubbermaid keeps changing colors!
February 17, 2014
If you have arthritis, poor choice
These snap really tight -- if you can get them shut, which I have a hard time doing because I have rheumatoid arthritis. I love that the lids snap together making them easy to store. They take up too much room with the lids snapped to the actual containers. I don't have much storage space and didn't take that into consideration when buying them. I really love the concept but I can't recommend if: 1. You have joint pain in your fingers 2. You have limited storage space
January 21, 2014
LOVE THIS
I absolutely love this product. So nice how they stack on top each other too. High qualify storage dishes that do not stain. Would definitely buy more if they came in additional sizes.
April 24, 2013
Best tupperware ever!!
I have bought many different types of tupperware in the past, but none surpass the quality of this set. I love how I can put left over spaghetti sauce in these, and they don't retain the odor or the stains!!!! How amazing! The lids snap to the bottom of the containers, which makes them easy to find in my mess of tupperware madness. I have registered for two more sets on my wedding registry, and once I get them...I will throw away all my old tupperware. You can't go wrong with this set!
February 19, 2013
Related Searches:
Similar Products: