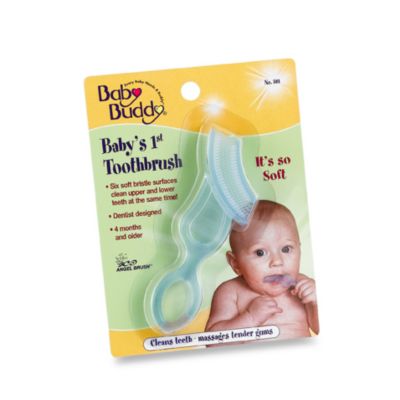 Baby Buddy® Baby's First Toothbrush in Blue
This super soft brush features six soft bristle surfaces to clean upper and lower teeth at the same time, while massaging tender gums.
It also helps remove sugars and bacteria that can lead to future decay.
Made from 100% silicone.
PVC and phthalate free.
Dishwasher safe.
Ages 4 months and up.
SKU # 14911359
Baby Buddy® Baby's First Toothbrush
3
3
Can't go without this!
My son is almost 12 months, & he has never quite liked harder plastic tethers. Even the popular Sophie the giraffe teether didn't catch his fancy for very long. Enter this awesome toothbrush/teether. The plastic is soft & bendable with bristles in the same material. It's easy to clean & the odd angle is easy for little hands to grip & comfortably chew on. If your little one loves this, i strongly recommend buying more than one - they're easy to lose & you'll be miserable without! He's been loving this teether since about 5 months.
September 14, 2014
Excellent Teether!
So I just threw away this toothbrush after my daughter had it for 2 years! I started using it just to brush teeth, but then she started using it as a teether. Well, she developed a chewing habit, especially if she watches TV, is sitting reading, and sometimes to sleep instead of sucking a thumb or using a paci. Well, she was chewing the living daylights out of her hands, so I started giving this toothbrush to her. Only in the past week has she chewed it beyond repair at over 2 1/2 years old. I am going to go buy a few more of them because it has been a lifesaver for the hands, and lasts a lot longer than a regular toothbrush for chewing.
March 20, 2014
It a good product I give it to the baby after eating baby food and the bad smell goes away. I love it
September 19, 2010
Related Searches:
Similar Products: