Samsonite® Tote-a-Ton Bag
400 denier nylon.
Measures 33" L x 17" H x 11 1/2" W and has 6,452 cubic inches of room.
Samsonite® Tote-a-Ton Bag
9
11
Light, big
I got this for my daughter's dorm college packing. its very roomy & can carry a ton ! if its for cargo, it's ok . not recommending for hand carrying. it will be very heavy and hurt your shoulder or hands.
September 13, 2014
Tote-a-Ton
Loved this bag. We bought it online along with two others from the store to help move my son across the country to college. They worked great and three of them held everything he took to college except for some breakables that we put in a hard sided suitcase. We used Spacebags to compress his bedding and clothing and then placed everything in these giant bags. They hold so much that you just have to weigh them so they don't go over the airlines 50 pound weight limit. They were also durable. No rips or tears even with checking them. Great purchase for us. Another plus was that he could throw the empty bags inside his hard sided suitcase and slide that under his bed. No need to have a bunch of bags to worry about storing.
September 12, 2014
Great for relocating
I purchased this bag at the recommendation from my friend who also relocated a few months prior. This was a good choice especially for those flying as the bag weights nearly nothing.
December 5, 2013
Awesome Bag!
My family and I are moving overseas. I couldn't fit all of the things we wanted to take into the suitcases we have. I found this bag at BBB for the lowest price. So far, I have fit items from 2 large suitcases into one bag and still maintained the 50# weight limit of the airlines. It's a great bag with lots of room and the material feels sturdy as well. I have already ordered 2 more!
May 8, 2013
Samsonite Duffle is 100% perfect
This Samsonite duffle bag is sturdy, heavy duty and super spacious. Great for traveling, moving, storing away seasonal wardrobe and bedding. I think it is so perfect that I bought 9 already ( 3 reds, 3 purple, and 3 black). I highly recommend it to anyone who move, travels, likes to be organized or goes camping. Thank you BBB for bringing it to us at an excellent price.
April 17, 2013
The Best Gift!
My son received this at his college trunk party and it is the best gift. It's huge!! It's about the length of his trunk and holds more than his Swiss expandable suitcase. I was able to fit all of his clothes in one. I will be heading back to Bed Bath & Beyond to get another one.
August 4, 2012
Works Great!
We take our bed pillows with us when we travel and needed a tote large enough to fit several pillows. It works perfectly for this purpose. I would note that the straps are short (hand carrying only) and would be nice to have a shoulder strap as well.
May 31, 2012
The GREATEST PURCHASSE EVER
This product gets 5 STARS and is the BEST DEAL EVER!! You should NOT PASS THIS STEAL OF A DEAL up and purchase this product...PURE EXCELLENCE...Good buys are hard to come by these days...this is the best one yet.
May 30, 2012
Related Searches:
Similar Products: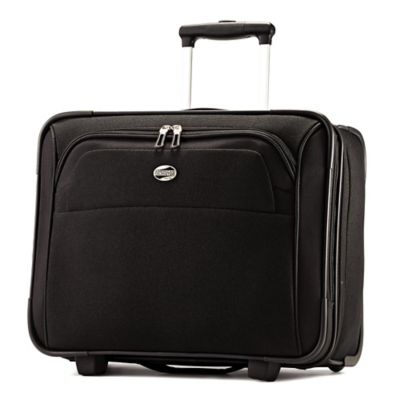 Samsonite® iLite Xtreme Wheeled Boarding Bag in Black
Price:
$79.99
Brand:
Samsonite
Categories:
More > Luggage > Luggage Totes & Duffels
The stylish and lightweight iLite Xtreme Luggage by Samsonite takes travel to the next level. Featuring "airflow" wheels and a retractable, corrugated-shaped pull handle, this bag offers effortless mobility. Constructed of durable 1200D x 900 polyester.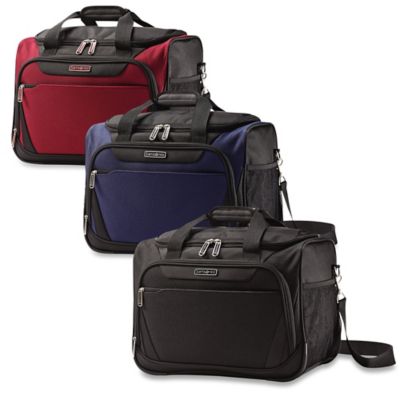 Samsonite® Aspire GR8 Boarding Bag
Price:
$59.99
Brand:
Samsonite
Colors:
black, blue, red
Categories:
More > Luggage > Luggage Totes & Duffels
Travel with ease, grace, and style using Samsonite Aspire GR8 Luggage. Lightweight with a high packing capacity, the Boarding Bag gives you plenty of room to keep your essentials close at hand, and has a removable shoulder strap and top carry handle.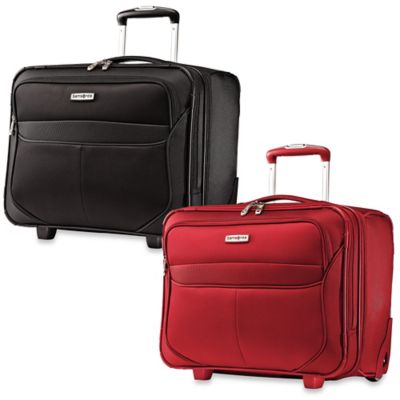 Samsonite® LIFTwo Wheeled Boarding Bag
Price:
$129.99
Brand:
Samsonite
Categories:
More > Luggage > Luggage Totes & Duffels
Ready to go when you are, this lightweight luggage won't weigh you down, but is durable enough to stand up to the rigors of travel. Two wheels keep you moving easily. Padded laptop compartment accommodates up to a 15.6" laptop.
Also check out:
$19.99 - $39.99

Beyond Value

(39 Reviews)

$9.99

Beyond Value

(4 Reviews)

$19.99 Each

Beyond Value

Exclusively Ours

(31 Reviews)
$24.99 - $49.99
(15 Reviews)

$19.99 - $29.99
(6 Reviews)