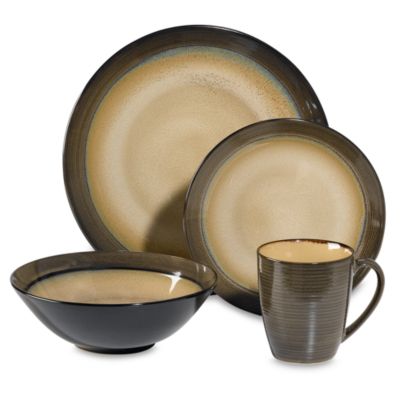 Sango Roma Sage 16-Piece Dinnerware Set
Microwave and dishwasher safe
16-piece set includes:

Four 11" dinner plates
Four 8" salad plates
Four 7-1/2" soup bowls
Four 12 oz. mugs
SKU # 17176218
Sango Roma Sage 16-Piece Dinnerware Set
16
16
Doesn't hold up to normal wear
I have owned two sets of these dishes, and although I loved them initially, I agree with the other reviewers on their fragility. I have broken dinner plates, salad plates and bowls while washing them in the kitchen sink. They also show wear and tear by scratching easily. I'm going to need to purchase a new set, and unfortunately they won't be another set of Sangos.
November 16, 2013
Do Not Buy!
We registered for these dishes in the store because we loved the way that they looked. Very simple and stylish. We thought that we were getting a good product since they aren't that cheap per set. The dinner plates are cracked down the middle and we have had a handle crack off of one of the mugs. So much for having setting for 12..... I wish we would have never registered for these. :(
August 6, 2013
We bought these dishes because we really liked the look of them. A few months later I noticed a crack down the middle of one of the plates. I was concerned and looked at the others and 2 other plates had cracks too. We threw the box away so we knew we wouldn't be able to return them. Its been a year and all four dinner plates and two of the smaller plates all have cracks down the middle. I know eventually all of them are going to break. I really don't recommend these dishes. Very Disappointing!!
June 20, 2013
horrible product
My husband and I received these for our wedding last May. We used them everyday (just the 2 of us), we have 12 plates, so we rotated them so we weren't using the same 2 each day. About 6 months later some of the plates got huge cracks down the middle. I took them back to the store and the girl working in that department actually told me "We tell people not to register for those when they get married because they are really poor quality." Well, nobody told me that when I registered for them. But luckily they took them back and I was able to get a nicer set.
May 24, 2013
Looks nice, won't last
This is a great looking set and I bought it based on the appearance. I had no issues for about five months but I am very gentle with everything in my kitchen. I have not yet had any issues with the plates but I have lost a mug due to the handle breaking while I drying it with a towel. I have read other reviews that stated that they had problems with the handles breaking so buyer beware. I can attest to the fact that the coffee mugs are not durable.
October 9, 2012
DO NOT BUY THESE DISHES
There are plenty of very quality dish sets available through BB&B but these are not. At all. We received these for our wedding last fall. We received three sets. They have literally fallen apart. All 12 of the plates split literally in have, 3 bowls had their bottoms drop out 8 mugs' handles came off in our hands. I have never ever had dishes that had these issues. Pick something else! I will say, however, they are very attractive.
October 3, 2012
very disappointed
I loved the look of this set but it is SO FRAGILE!! First I had to exchange many items when I first got them. I understand that the glaze would have imperfections but there were several pieces that had complete white streaks that had no glaze at all. After I finally got a "nice" complete set I have broken many pieces! I hand wash everything and if I happen to hit the side of the sink tin the slightest way, the dishes chip (huge chips) or the mug handle breaks off completely! Very unsatisfied but don't have the boxes to return and was married in September 2011 so I doubt the store would even return them:( I wanted these to be dishes that lasted for years! Now I will be stuck with a very incomplete set.......
May 2, 2012
Love these!
This is an excellent set! They are sharp looking and very functional. We use them everyday. I get many complements about this set!
March 31, 2012
Related Searches:
Similar Products: