Sassy® Wonder Wheel
Its wheel base has a suction cup to hold it in place for baby which makes it lots of fun for high chairs.
Age 6 months and up.
SKU # 18724081
Best Toy Ever
My grandson has this and I purchased it as a gift for someone else. This has been used by my grandson going on 8 months now. It's used mostly on his highchair to keep him busy before meals. Longest lasting toy I know of!
November 3, 2014
Long lasting enjoyment
This turned out to be one of my grandson's favorite toys. He started using it on his highchair every meal to keep him busy before the food came. However, he's also still enjoying it almost 5 months later. This was a gift to him from someone who's infant loved it and I just purchased it as a gift for an upcoming shower. I will continue to give this as a gift to any baby that comes along.
October 6, 2014
Best High Chair Toy
My daughter loves this toy! She started playing with it at about 3 months old when we would put her in the high chair while we cooked/ate dinner. It quickly became her favorite toy, kept her entertained, and helped her to develop hand-eye coordination. She is now 8 months old and still likes to play with it. It has become my go-to-gift for baby showers.
November 25, 2013
best toys for babies
I purchased this toy about 8months ago when my son was 6months.he has been playing with this toy everyday. i used carry this toy in my car, put it on dinning table to keep him busy while his lunch and dinner. he played with this one so much finally he broke it into two pieces from base and I can't fix it for further use. I would buy another one if he would have not outgrown.I would recommend this toy.
December 11, 2012
Great toy
I saw how this amused our grandson in NY-bought another for another grandson and he loved it! This is a great gift for any child in a high chair. The 3 year old sister loved it too! Great buy!
September 21, 2012
Related Searches:
Similar Products: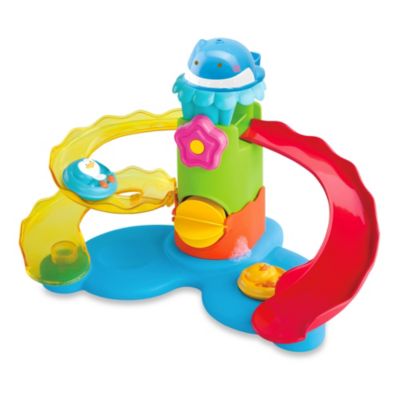 B Kids® Splash 'N Slide Waterpark Wonder
Price:
$14.99
Brand:
B Kids
Categories:
Baby & Kids > Infant Toys (Ages 0 - 3 Years) > Bath Toys
This colorful Splash 'N Slide Waterpark Wonder by B Kids adds great bath time fun for your child. Little hands stay active and happy by sending cute characters on rafts down the floating water slide and around the spinning water wheel!