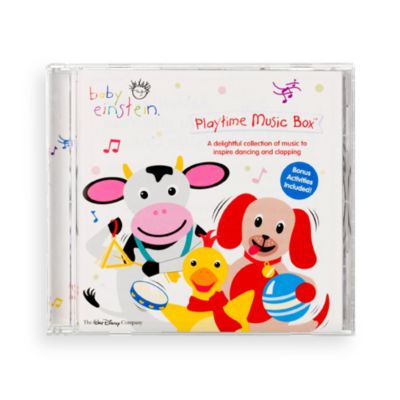 Baby Einstein® Playtime Music Box
Explore it:
Each delightful piece was specially selected and produced to bring musical fun to any activity like playtime, travel time, tummy time, and more.
Playtime Music Box includes classical pieces such as Rossini's "William Tell Overture" and Schumann's "Happy Farmer," as well as "Old MacDonald Had a Farm."
31 minutes.
SKU # 15296836
Related Searches:
Similar Products:
Also check out:
$8.99

Free Standard Shipping

$14.99

Free Standard Shipping

$8.99

Free Standard Shipping

$11.99

Free Standard Shipping

(1 Review)

$14.99

Free Standard Shipping

(1 Review)
$17.99

Free Standard Shipping

$7.99 Each

Free Standard Shipping

(12 Reviews)

$9.99

Free Standard Shipping

(9 Reviews)

$9.99

$6.99

Free Standard Shipping

(4 Reviews)

$12.99

Free Standard Shipping

(14 Reviews)

$9.99

Free Standard Shipping

(10 Reviews)

$13.99

Free Standard Shipping

(6 Reviews)

$13.99

Free Standard Shipping

(6 Reviews)
$3.99

Free Standard Shipping