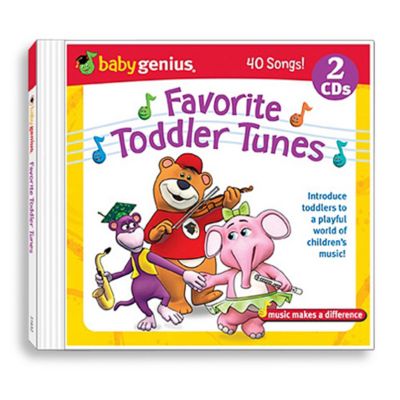 Baby Genius® Favorite Toddler Tunes CD
Explore it:
Children's Songs contains 29 songs, including "Ring Around the Rosie," "B-I-N-G-O," "Row, Row, Row Your Boat," and more.
Toddler Tunes includes 40 songs such as "London Bridge," "Home on the Range," "Mary Had a Little Lamb," and many others.
Each collection sold separately.
SKU # 15004495
Related Searches:
Similar Products:
Also check out:
$6.99

Free Standard Shipping

$7.95

Free Standard Shipping

$149.99

$50 Bonus Gift card with $300 Calphalon Purchase

$109.99 Each
(26 Reviews)

$6.99

Free Standard Shipping

$8.99

Free Standard Shipping

$6.95

Free Standard Shipping

$4.99

Free Standard Shipping

$4.95

Free Standard Shipping

$6.99

Free Standard Shipping
$9.99

Free Standard Shipping

(1 Review)

$7.99

Free Standard Shipping

$6.99

Free Standard Shipping

$49.99

Free Standard Shipping

(1 Review)

$8.99

Free Standard Shipping

$12.99

Free Standard Shipping

(1 Review)

$14.99

Free Standard Shipping

$4.99

Free Standard Shipping