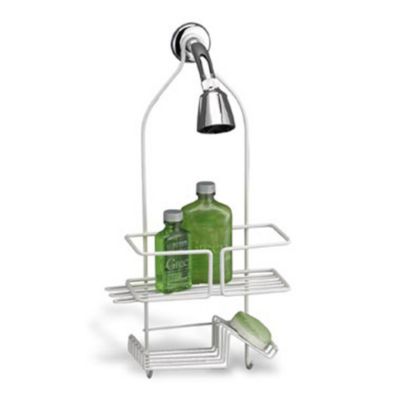 Shower Caddy
The caddy features a tilt soap saddle, hooks for hanging sponges and wash cloths and a razor holder, plus two shelves for storing shampoos and other necessities.
It's constructed of high quality coated steel that won't rust.
Measures 20" H x 10" W x 4.5" D.
SKU # 10133181
It just works
We bought two shower caddys. This was for the spare bathroom and ended up being the cheaper and better of the two. It's simple, it works well, and it stays put.
October 28, 2014
Shower Helpter
We've had this caddy for at least a year. We've removed it and cleaned it twice. It stays in place because I put it on a side wall of the shower with adhesive hooks and the suction cups. Never moves. I am buying another one to put beside the one we have for my wife's heavy shampoo bottles.
June 5, 2013
Less to avg performer.
Quality lacking so durability is deficient. Good if it last 6 mos.
September 5, 2012
Typical @@@@@ Junk
Moves all over the shower. No suction cups to hold in place. The trays are wired on with thin wire (hidden under the coating). After one day the wire became exposed and stabbed me in the finger which drew blood. Glad I had a tetanus shot, I'd be afraid of what @@@@@ germs might be on the piece of wire. Going back to the store.
April 13, 2012
Perfect Fit
I really like this shower caddy it's perfect. My husband and I keep two of everything in the shower and this fits everything. The top rack holds my ultra huge shampoo and conditioner bottles (33.8 oz. ea.). We keep my husband's shampoo and conditioner (18 - 22 oz.) in the middle rack, it's just as wide only slightly shorter. My husband likes the convenience of the soap and towel racks on the bottom. To address concerns from other reviewers, I don't use a disposable razor, I use a razor which teardrops at the bottom and it fits just fine in the holders. As for the rust complaint, we've had our rack for two months and have had no problems so far. Hope this helps.
May 24, 2011
Would be better if it fit
This caddy doesn't fit my shower head right so I can't put large shampoo bottles on it and the spot for razors only fits disposable razors. Other than that I like it and it hasn't rusted yet - only had it about 2 months.
December 27, 2010
water + steel = RUST
After only a month, the coating split and the metal underneath rusted big time.
November 30, 2010
Great shower caddy
It's super affordable and it really works well. It holds so much including a razor, soap, shampoo, toothbrush, toothpaste, body wash, face wash, etc.. I keep my shower very organized and I ove it!
October 17, 2010
Related Searches:
Similar Products: