Sienna® Eco-Steamer Canister Steamer Professional
Works virtually everywhere in your home to clean floors, counters, bathrooms, windows and walls and sanitizing almost any fabric including: carpet, pet beds, draperies and sofas.
It can be used to sanitize toys, too.
This machine uses only tap water to steam, sanitize and deodorize, so it's safe for the environment and safe for use in homes with children and pets.
The steam is ready in minutes with a 1.2 liter tank producing continuous steam for up to 35 minutes.
With 1350 watts of power, you get professional level steam pressure and steam that's heated to 221 degrees F to sanitize.
Includes the ultimate accessory kit: deluxe floor brush, extension arm, fabric brush, glass squeegee, funnel, refill cup (13.5 fl. oz), fabric brush pad, 2 extension tubes, round brush (2 pcs), and 2 washable floor cloth pads.
Illuminated on/off power switch.
ETL listed.
Model # ssc-0312.
1-year warranty.
SKU # 18238993
Sienna®  Eco-Steamer Canister Steamer Professional
5
6
I have used the product one time so far, and it has met my expectations. After I use it for awhile, I will have a better idea if it does as I had hoped when I purchased it.
August 11, 2014
Sienna Eco-Steamer Canister Steamer Professional
This steamer is everything I hoped for. It is light and easy to handle. Instructions are easy to understand and follow. I had a dog that was very old and the last two weeks of her life she could not hold her urine. My lining-room carpet got the worst of it. I have used the Sienna Eco-Steamer Canister Steamer Professional only once, and it has made a huge difference. It will take a couple more times, but that is only because of how much urine has gotten into the carpet.
July 30, 2014
A Nifty Little Steamer but.it does has some issues
My old steamer was okay but had no on/off switch and when I pulled plug from the outlet I invariably got sparks. The EcoSteamer is the only steamer I found with an on off switch. It takes a good amount of water in the little tank, is lightweight and rolls easily on its wheels. It produces an abundance of hot steam. A very powerful device, particularly at the price. However...it drops substantial amounts of water wherever it happens to be steaming whether on the couch, clothes in your closet or on the floor or carpet. Makes a bit of a mess. When I want to wash the floor, I don't want to do it with a steamer. Also, the steam lock did not work and the primary steam head used for floors falls off. So I sent it back to the manufacturer and got another one. It had all of the same flaws, and dropped even more water wherever It was in use. The trigger is hard to depress but w/o the continuous steam lock, I have no choice. Unless you have strong hands, you may find it to be uncomfortable.
July 28, 2014
Blast of steam
This machine does as it says, it's blasts out the steam for a full half hour. I love cleaning with it. I don't love the floor cleaning head I think it could have been made better but everything else out weighs that. I had 2 Shark floor steamers the purple one worked pretty well if you kept it pumped so when the new Shark came out, that the steamer could be detached for cleaning I couldn't wait to get it. I was very disappointed it just didn't seem to keep the steam up to clean.. Cleaning with steam just gets everything so much cleaner looking with no film, and no fumes, it makes me feel so much better not using chemicals. Make sure to blow out the water out of the hose before using or if you let it sit and cool off for awhile.
July 17, 2013
Excellent for the cost
I have all tile in the main areas of my house and no good mop to clean. I got the steamer and used that instead of a mop. I was expecting to have to pay a lot more for this type of clean! I also have a new puppy who has had a couple accidents on our carpet areas over the last few months, the steamer cleaned those right up!
December 28, 2012
Related Searches:
Similar Products: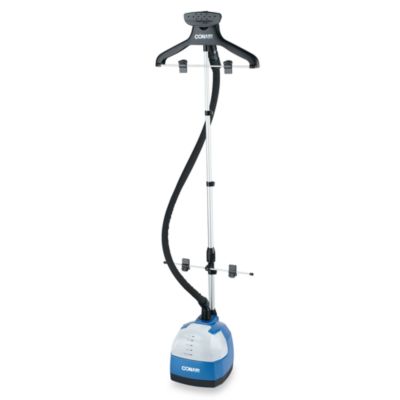 Conair® Garment Steamer
Price:
$64.99
Brand:
Conair
Categories:
Storage & Cleaning > Laundry > Irons & Steamers
Save time and money by steam cleaning your clothes right at home. This powerful model provides 90 minutes of high velocity steam and features a new "burst-of-steam" feature that helps clean and deodorize clothes and other fabrics.