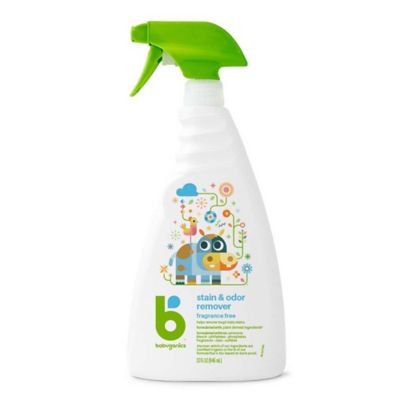 Babyganics® 32 oz. Fragrance-Free Stain Remover
Use to remove spit-up and tough baby stains
Made of natural ingredients
Free of chlorine, parabens, phtalates, sulfates and dyes
Fragrance free
Never tested on animals
Ingredients: deionized water, sodium laurylglucosides hydroxypropylsulfonate (plant-based cleanser), lauryl dimethylamine oxide (plant-based cleanser), sodium gluconate (plant-based water softener), sodium citrate dihydrate (natural builder/cleanser), lauryl glucoside (plant-based cleanser), methylisothiazolinone (preservative)
Made in USA
SKU # 16649422
Babyganics® 32 oz. Fragrance-Free Stain Remover
4
4
Falling in love with this brand..
For natural products, this line is so reasonable and works so well. I used this last night to try on one of my pillow shams that has been looking dingy for awhile despite pre treating it with another natural product. Boy did it do the trick in one wash, cold delicate cycle at that! I've also have been using the laundry detergent with it and love it also. I find that most natural products do not clean very well in a cold wash, but these laundry products do. Very pleased with the results. Will be trying more of their products!!
November 18, 2013
Great Product
If you are looking for a product to remove stains on clothes and other cloth items...then you have found it. This really does work on all of my babies clothes and even removes the yellow potty stains on her clothes, car seat and whatever else she chooses to explode in. All of the stains are gone and works very quickly. I looked at the ingredients and they are not harmful to my babies skin. I also like that it is priced low enough and the bottle size is large enough for me to use it for about 2 months before it runs out. I definitely like the other products by Baby Genics too.
November 4, 2013
works great
Having a newborn I am not really keeping up with the laundry. I was looking for a natural stain remover and this one works great. I quickly spray it on and have to leave it in the basket for a day or two! Works great!
May 25, 2012
Great Cleaner
This a great cleaner and great for kids with senstitive skin. The price is by far the cheapest out there. They hardly stay on the shelves very long at the store
August 24, 2011
Related Searches:
Similar Products: